Running out of things to do this spring? Feeling stuck in a rut? Needing a rush of motivation? Wanting to get back on track by looking for discipline you've thrown out the window?
You might have learned the news this spring season that you're not going back to the office anytime soon. Your company is still deciding whether your specific department can just stay at home and work. It was what you preferred because there are only three people in your team and you work perfectly well as a trio at home. The meetings can be done online and your tasks are all completed at your desk. You enjoyed not having to commute early in the mornings and late in the afternoons. You enjoyed being able to save money from spending on gas, public transport, food, and clothes. Basically, you petitioned and asked for your company not to send you back to the office. They haven't decided yet but for the next quarter, you're going to stay working from home.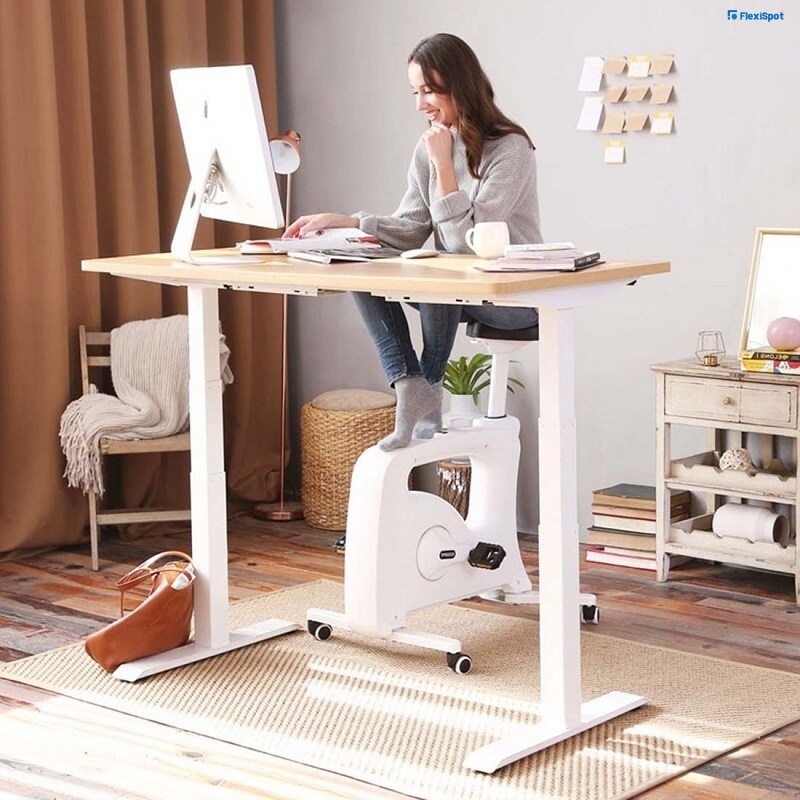 But even though you want to work at home, your problem is staying disciplined and motivated. You need a change and since you'll be working at home for quite some time, you finally decide on upgrading your workstation. Since you've done it for the past two years, you already know what you want and need in your workspace. You've always eyed using a standing desk because you've heard so many great reviews about it boosting work efficiency. You use two desks for work so getting a dual monitor mount is just perfect to keep your desktops at the level you're comfortable. You want to stay active so you've always envisioned using a desk bike under your table. You know it'll help you remain active even though you have a full workload.
You're in luck because ergonomic furniture is so trendy these days and with good reason. It helps the user's needs to be met; for example, a preferred height or desired desktop configuration. It also helps promote good health by making sure you have the proper posture, you get to sit and stand regularly throughout the day, your muscle pain is reduced in the neck and back, etc. Also when ergonomic furniture is used for work, it boosts productivity and sharpens focus.
One company that provides great quality ergonomic furniture is FlexiSpot. It always has the customers' needs in mind when coming up with innovative products. We listed down three FlexiSpot products that will surely help you get motivated this spring season while your company is still deciding on the fate of your work setup for the months to come.
With our scenario above, our customer wants to stay active. There might be days that he or she feels sluggish too, especially in the afternoon when the day has dragged out for too long. You would want a chair that can boost your energy at any time and also check off your workout requirement for the day in this season that you're overloaded with work. This FlexiSpot product has comfortable pedals that hardly make any noise when you pedal them, meaning you can use it comfortably even while in meetings or having housemates around who also work at home. The bike features a calorie tracker to monitor your progress and a customizable cardio with adjustable resistance levels. The height of the seat can be adjusted according to your desire and you may also use the removable keyboard tray as your desktop. It's definitely compact and reliable, which FlexiSpot customers love. It will be easier as well for you to remain consistent with exercise because using this desk bike during work doesn't feel like a strenuous workout at all.
If you're looking for a sustainable product, then this desk perfectly fits that bill. It is a favorite among FlexiSpot customers. Not only is it eco-friendly with its use of a bamboo desktop, it also looks very elegant, using lateral compression technology to retain that natural bamboo finish. It is free of moisture, insects, and scratches because the bamboo is coated with a water-resistant 2H lacquer. The standard height range of a Kana Bamboo Standing Desk is from 28" all the way up to 47.6" so it can cater to varying heights of people. Maybe your housemate who works on a night shift can use it on the night, meaning you can split the bill for this desk since both of you use it anyway for work. Moreover, it features two keypad options: one that is basic with simple up and down buttons and one that is an advanced all-in-one keypad with three programmable presets.
The FlexiSpot site offers a single monitor mount or a dual monitor mount, one that is for a single desktop and another if you are using two screens. Since our employee above, you, are using two screens then feel free to check out the dual monitor mount option. It's much easier to do your desktop work when you can configure your two screens in different orientations. It also won't take up additional desktop space because all you need to do is to clamp on the Monitor Mount securely to your desk. The monitor mounts can hide your wire cords as well to make sure that the workspace is clutter-free. Both variations are easy to install, adjust the height of, and rotate to an angle that you need.
Final Thoughts
A new, clutter-free environment helps anyone who is stuck in a rut. You may take a walk outside, take deep breaths, recharge by having a quick vacation, etc. Then you can also come home to a brand new, upgraded workstation. It will help give you a refreshed mindset at work. Plus, having ergonomic furniture will help you meet your needs and wants. You can focus on your work because you won't be feeling any discomfort or pain. Trust us, this is one of the worthy investments you can make for your career and overall living.