We have all crammed or procrastinated once in our lives.
For many, we have been so used to procrastinating that it has been how we have worked ever since. For some, there are many reasons as to why they find themselves in crunch time. Some had to attend to an emergency so there was no choice but to put off doing a task. Some find themselves in crunch time because of another teammate who is currently facing a crisis. Some were not aware of the correct deadline. Some came home from a vacation and was given too little time to finish doing something because of miscommunication.
There are tons of other reasons why people cram. And some even say that it helps put their mind in a much more creative zone or flow state. Yes, it does sometimes work but it is still so much better to work and finish your tasks ahead of time. Why is that so? When you do work ahead of the deadline, you are able to pass it on time and impress the client or your superiors. Before the deadline, you can check your work for last-minute corrections and add touch-ups. When you are not cramming, you are not stressed and can even do additional work. In short, you deliver a much more polished output when you are not cramming. It's also better for your mental health and you get to enjoy a well-balanced lifestyle.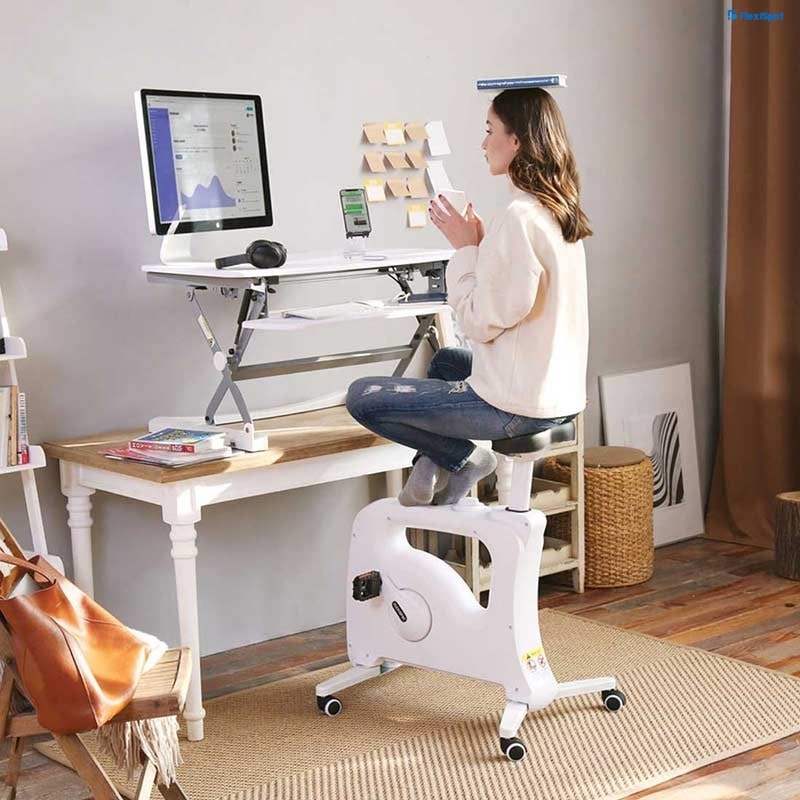 To help you not find yourself in a cramming situation, you can invest in ergonomic furniture. These boost your productivity and improve your efficiency. It sharpens your focus and lifts up your mood. You are much more motivated to work when your body pains are reduced and when you work in a space that's not cluttered. Your essentials are within reach and you can customize your furniture depending on your needs. You also protect your health by conveniently breaking hours of sitting and standing up at regular points of the day.
FlexiSpot is one brand you can trust when it comes to ergonomic furniture. It makes sure it improves the lives of its customer through innovative products. The brand also listens to its customers so that it is able to improve its products through taking note of customer feedback, needs, and preferences.
Here are a few ergonomic items to make sure that your workspace is not cramming-friendly.
The Flexispot EP4 is a perfect mix between function and style. It makes use of a dual-motor lifting system that can carry up to 220 pounds. Its height range is from 25" to 50.6" It goes up and down for about 1.4" per second, all while not making a sound more than 50 decibels. It has an anti-collision feature that will automatically stop when it comes in contact with obstruction. It comes with a set of two desk hooks, one on each side, where you can hang headphones, chargers, your bag, jacket etc. To maintain the clean look, it also comes with a cable management tray. It also has a convenient USB charging port for your gadgets. The desktop is environmentally-sourced and is spacious enough to fit a monitor, laptop, desk essentials, documents, etc. Any standing desk will help you break that cramming habit of yours.
This desk bike can help you squeeze in a sweat session and make you less sluggish at work. It can boost you energy at any time so that you stay focused and alert to avoid cramming sessions. This FlexiSpot product has comfortable pedals that hardly make any noise during pedaling, meaning it can be used comfortably even while in meetings and having the other partner around the room. The bike features a calorie tracker to monitor your progress and a customizable cardio with adjustable resistance levels. The height of the seat can be adjusted according to your desire and the removable keyboard tray may be used as a desktop. It's compact and reliable that FlexiSpot customers love. It will be easier as well to remain consistent with exercise because using this desk bike during work doesn't feel like a strenuous workout at all.
Instantly upgrade your workstation with a desk converter that will help you not be a chronic crammer. This particular product has a spacious 31.5" wide work surface that can easily fit two 24" monitors and a 28.4" wide quick-release keyboard tray. It makes use of high-powered gas springs that makes adjusting the height of the product smooth and stable. It is specially engineered with a bracing system that can respond immediately to rapid falls even if the desk is in full capacity. For extra safety, the desktop comes with rubber crash prevention pads and the legs have protective rubber feet. You can easily install a monitor mount, thanks to the product's integrated monitor mounting grommet.
You can enjoy multiple configurations of your monitor when you use this monitor mount. It has an adjustable arm that has a maximum height of 15.75 inches and a maximum extension of 20 inches. You can completely rotate it for 360 degrees. It can be easily installed, coming with a sturdy C-clamp (for desks that are 0.8 to 3.94 inches thick) and a grommet mount base for desks that are 0.8 to 3.5 inches thick. And for more organization, it hides your wires with its built-in cable management system.
For a premium comfortable working experience, this ergonomic chair from FlexiSpot proudly features a 3D lumbar support system, 135-degree lounge tilt, and 4D adjustable armrests. It has three height adjustment levels with a system that gently rebounds. The elegantly curved backrest will conform to the neck and spine that will provide the maximum headrest and lumbar support. The armrests are adjustable in four dimensions that contour effortlessly to the arms and elbows. It is made of Italian-imported chenille and K+R temperature sensitive fiber that will provide maximum ventilation and the most delicate of fabrics. It also features the best-in-industry Samhongsa Class 4 Gas Lift which guarantees that this chair will be able to handle whatever you throw at it.