The dinner invites are coming in. One after another, you would have dinner with a longtime friend, a colleague, a superior, or your sibling. After all, it's the holiday season, a time to be merry and live life to the fullest.
But what if you're trying to fit in a Christmas dress you bought last month? How could you watch your weight while going to all these dinners and parties? You would need a whole lot of motivation and discipline in order to stay committed to eating healthy and also not more than you intend to.
Don't fall into the trap of setting one goal but failing to deliver. Don't listen to the million excuses going on in your head. This is true when you try to get your body to exercise.
It's hard to get up and move, especially this holiday season. Aside from reuniting with a friend, we all just want to lie down and binge-watch a new Netflix series. Just thinking about exercise and the energy it requires already feels overwhelming.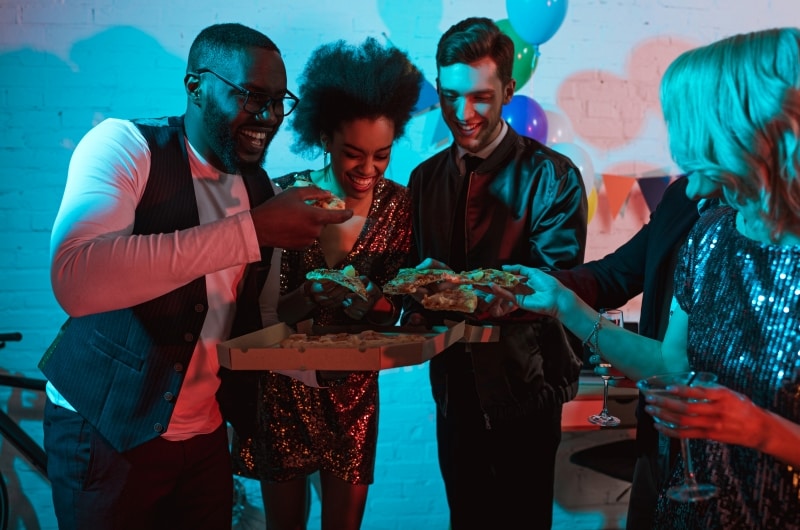 Then, we let the "valid" excuses enter. We say we're too busy with work and meet-ups before the actual off-days that we don't have time for an add-on in our lives exercise being considered an add-on. We say we don't have the equipment at home. We think our bodies are just born to be overweight. We think it's the holidays and we could allow ourselves a month of eating junk food. The list can go on and on but the feeling of accomplishing and sticking to a strict exercise routine, again this holiday season, is irreplaceable, and we guarantee, to be very fulfilling.
Come to think of it, there really is the time! There are 24 hours in a day and about two hours or so of that is spent scrolling on social media. What's for us to lose if we take at least 5 minutes a day to exercise? By exercising daily, even for just a little while, we make a habit out of it and it becomes easier for us to push ourselves and exercise some more.
In case you still don't know, exercise has the power to give you a better quality of life. Science shows that it adds years to one's life and helps prevent chronic diseases such as heart disease, cancer, and diabetes from developing. It improves brain functions such as sharpening focus and stimulating creativity. After a calorie burnout, it uplifts someone's mood and gives one a rush of endorphins.
But if have always wanted to lose weight—may be because you're obese or overweight or you simply want to shed some pounds—there are reasons that could probably motivate you to finally exercise and grind it out even though it's the holiday season. Here is some dose of motivation:


1. Your joints hurt and it's a struggle to move freely when you're overweight.
There are higher chances for you to develop osteoarthritis if you are obese. This type of chronic disease is bound to make your joints hurt which makes you move less. This means you have weak muscles and the heavier you get, the worse your condition becomes. Severe osteoarthritis equals more pain.
2. You will enjoy a better quality of sleep when you lose weight.
When you have a higher body fat percentage, you are more likely to suffer from sleep apnea or your breath-stopping. This means your upper airway gave up and cut off the entry of oxygen. Do you really want this to happen?


3. You'll be craving for less sugar and unhealthy fats.
Some experts say that one of the probable reasons why overweight people eat more food is because they can't taste it well. When you build healthy habits as part of your weight loss journey, there is evidence that you may be able to perceive flavors differently and vegetables or fruits will taste more appetizing to you as you lose more weight. It becomes an easier choice to eat healthily.
4. You will strengthen your immune system.
Let's simply put it this way. More body fat will lead to more infection or illness that may affect your gums, noses, sexual organs, and stomach. Because your body has been exposed to fat for the longest time, this might make it harder for the immune system to identify outside infections and stop them.


How To Lose Weight With FlexiSpot
An ergonomic furniture company that sells office equipment may be the last site in your mind to check for weight loss equipment. Think again. Over the years, innovators have found that since exercise helps in improving brain functions and making the body have more endurance, they've created fitness products that could be used in the workplace. And since most of our hours are spent for work, what could be a better situation than having the opportunity to lose some calories while at work?
Here is a FlexiSpot product that helps employees inject movement in their sedentary jobs, the desk bike. We break it down below:


V9 Pro Home Office Height Adjustable Cycle Desk Bike
Depending on your color preference, you may opt to buy the V9 Pro in black or in white. This particular design was a 2018 Honoree in the CES Innovation Awards. It will help you to stay productive at work while living an active lifestyle. Even if you are performing a sedentary task, you'll be able to burn a significant number of calories and lose weight.
The seat is easily adjustable to anyone's height because of the bike's built-in pneumatic adjustment lever. It has an integrated digital display that shows readouts for workout time, calories burned, and speed. It has eight resistance levels to choose from for light or strenuous exercise. Since your goal is to lose weight, we recommend challenging yourself to go on a higher resistance level from 5 to 8 and not go lower than this.
The bike has lockable gravity casters so you don't have to worry about it suddenly rolling away from your desired area of the room. It also has a spacious desktop where you can put your laptop and phone, and can also be removed when you don't feel the need for it. Lastly, it provides a smooth cycling experience because of the whisper-quiet operation.