You better watch out; you better not cry. Better not pout, I'm telling you why. Santa Claus is coming to town!
He's making a list and checking it twice—gonna find out who's naughty and nice.
If you sang along that Mark Mothersbaugh song that has become an iconic Christmas jingle throughout years past, then the Christmas spirit has indeed taken over you. It's almost Christmas time and we're just as excited as you are!
So of course, the next question is---have you been naughty or nice this year? We believe in the kindness of every heart and although you for sure had some lapses in judgment and mistakes that could have hurt others this year, you've also done some good. If you think you don't deserve the blessings, then now is the time to make it up. Apologize to those you have wronged. Go buy someone a gift and make them smile this Christmas. That bonus has hopefully arrived in your bank account and after a chunk has gone to your savings, don't forget to treat yourself and your loved ones this giving season!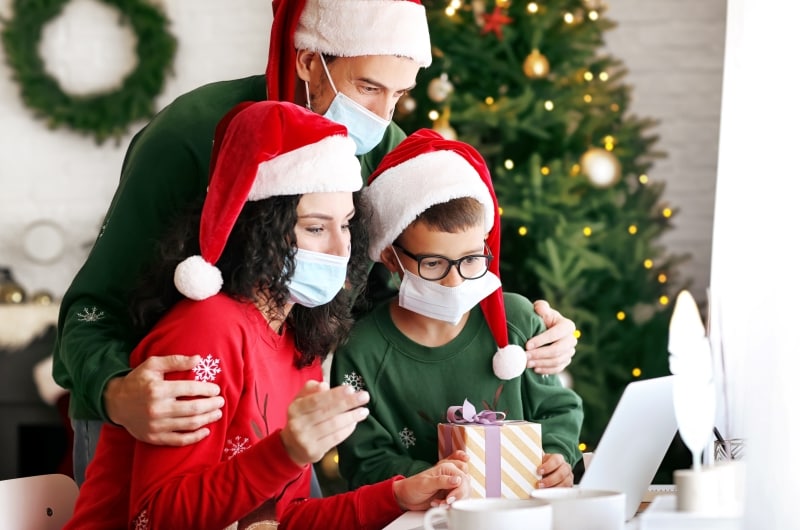 We are so thankful for the year that has been that we couldn't resist giving back! Of course, the pandemic is still very much within us but thankfully, we are making positive progress too. Reduce the gloom and reward yourself. You're probably here because you've been wanting to get your hands on ergonomic furniture but haven't been keen on splurging.
We understand that; people rarely buy new furniture or invest in great quality ones because the price tag overwhelms them or they don't see the need for it. But we guarantee you, that once you've invested in just one piece, your day-to-day life would become more convenient and comfortable. Quality will also last you for years so you'd realize you're actually spending much less if you buy quality furniture on the get-go.
Here at FlexiSpot, we've always had our customers in mind. Our priority is to give you luxury and comfort at a premium. You would be experiencing less body pain while you work or rest. You would also have so much more convenience on the tip of your hands. And plus, our furniture will work wonders on your efficiency at work. If you've been hesitating for too long, Christmas time is the perfect season to indulge yourself and ward off that guilt.


In line with this, we have specially prepared a Christmas Gift House just for you! Come enter and see the magic inside from December 1 to January 7. On the facade, you'd see some bedroom and workspace looks you might want to pin for inspiration or even directly shop the looks by clicking on the overlay red button. A video is available to play with vlogger Cathy Ding sharing her experience with the Comhar Standing desk from FlexiSpot. She's a business consultant that involves long hours working with Powerpoint or Excel on her computer. She's also a YouTube creator that spends hours editing her videos every weekend. This means that her workstation must really be ergonomic but the design also matters a lot to her. Thanks to FlexiSpot, she was able to inject both design and ergonomics into her workstation. Her favorite part is her Comhar standing desk because she is still suffering from back pain and it helps her stand at any time of the day. Plus, she really loves how it looks compared to other standing desks available in the market. The USB ports also help make her work life even more convenient.
When you go inside the FlexiSpot Christmas House, you would see the special offers available for you.


Flash Sale
As of writing, we are currently holding a flash sale of three ergonomic desk products that include Standing Desk Converters M7MB-35" (currently priced at CA$219,99), the EQ3-48"W Electric Height Adjustable Standing Desk (currently priced at CA$549.99), and the Electric Height Adjustable Standing Desk EC1-V2-42" W (currently priced at CA$359.99). As the names imply, these are all height adjustable and highly customizable. You may choose to add caster wheels and change desktop and desk frame colors on the two standing desks. They both come with a control panel and have a weight capacity of 154 to 275 pounds. The standing desk converter is perfect for laptops and would help improve your posture even more. If you buy them now, you could save up to CA$100! Don't hesitate and be quick because this sale won't last for long.


Special Offers
Aside from the Flash Sale, we also have some special discounts on selected premium products from FlexiSpot CA. These discounts would be applicable as long as the Christmas House stands (that's January 7 on our calendar) but of course, you don't want to wait until its closing time and there might no longer be any stock. There are special offers for height adjustable standing desks that would be the perfect upgrade for your workstation. You could save up to CA$100! It's Christmas so if you buy one now, you would have something to look forward to once your break is over. We guarantee you it's probably one of the best gifts you could give and receive.


Get Lucky Package
If you still haven't noticed, we want to be your Santa this Christmas! You're on our Nice list so whatever gift you want, we will surely give it to you. All you have to do is to make sure you set your alarms on December 24 and December 25, 9 PM EST. If your total order amounts to $500 or below and you're the first customer to checkout, you will get your order for free! But you have to make sure to tag us, @flexispot_official, on Instagram and use the hashtag #flexispotCA. We will choose from there who will be receiving Christmas gifts from us on Christmas Eve! Also, make sure you respond and post right away because the prize will be forfeited if unclaimed for 48 hours. Best of luck!