1. Free Orders
Where's the fun in the Black Friday season when the buyers can't cop some free orders? This super-exciting offer is available to all our existing and potential customers, so you also stand a chance.
During this campaign, Flexispot has been benevolent to the extent that you can enjoy free orders from the 25th of November.
However, you need to note that this offer is primarily for folks who made the first three (3) purchases at 00:00 am EST and 9:00 am EST on the 25th of November. Therefore, you might be among the lucky winners that'll get the free products.
The icing on the cake here's that the free products cover almost all our ergonomic products such as the height-adjustable standing desk, ergonomic office chair, and desk converter, among others.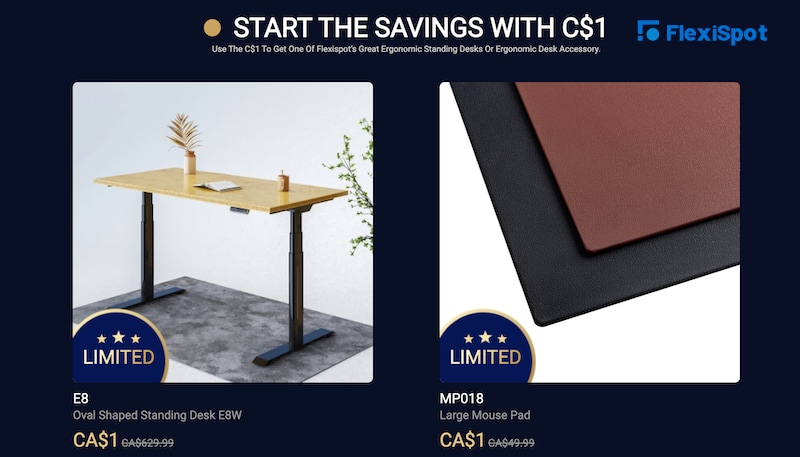 Imagine getting an ergonomic standing desk worth C$629 for as low as C$1. That's an offer we assure you that you cannot see elsewhere.
This promo package will start at 4:00 pm EST on November 25, 2022. So you should be ready to throw your hat in the ring to secure a spot for yourself.
However, you should note that there are only 5 limited slots for this activity. Therefore, we will be operating on a "first come first serve" basis.

Here is another magnanimous offer introduced by Flexispot to give you the perfect Black Friday and Cyber Monday experience. And you can also use it as a tip to increase your savings set aside for the promo purchases.
So you can turn your C$1 to C$100 between November 10 and November 24. That is, this falls within the Warm Up Activity. Meanwhile, you should note that this special promo coupon can only be used to purchase our E7 Standing Desk.
Also worth mentioning is the fact that the purchase of the desk needs to be done between November 25 and November 28, 2022. Therefore, we will suggest that you pay attention to these dates and be time-conscious.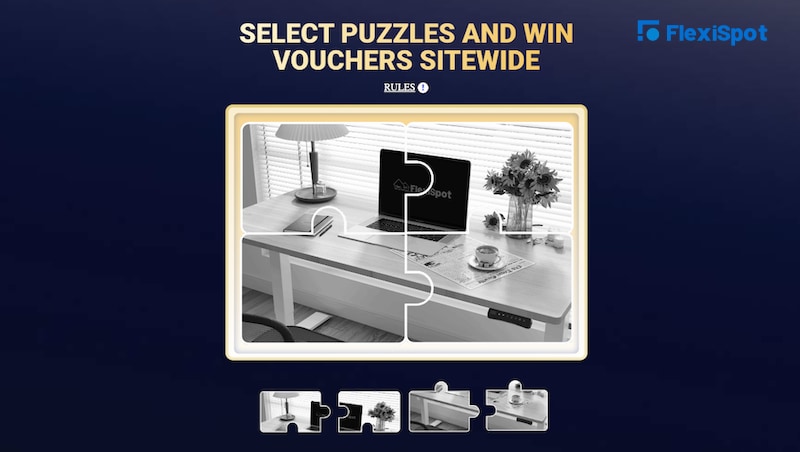 All you have to do here is gather 4 puzzles and the goal is to win a sitewide coupon. And with the policy of "one puzzle per day", you'll need up to 4 days for the collection.
On that note, you can start the collection of puzzles between November 15 and November 28 and once you're done gathering them, you'll receive a random coupon through an email. So it's better that you submit an active mail address through which you can be easily reached.
Finally, the coupon can only be valid for usage between November 25 and November 28, 2022.
Final Thoughts
Flexispot goal is targeted at ensuring that you don't spend too much money on products that won't make significant impacts on your work life. So with these tips shared above, we believe that you would make the best use of the yummy deals and discounts in the Black Friday and Cyber Monday shopping.