Throughout the past few decades, women's roles in technology have seen tremendous change. But despite advancements, men continue to dominate the field. Recent data shows that only 28% of workers in the IT sector are women. In this post, we'll look at the various positions that women might play in technology as well as the difficulties they encounter.


Software Development
The creation of software is essential to the technology sector. While designing, developing, and testing software applications, women can thrive in this profession and have a significant impact. Women are still underrepresented in the software industry, though. According to a 2021 report by the National Center for Women & Information Technology (NCWIT), women hold only 20% of software development occupations and only 25% of computer jobs.
Lack of representation and mentorship for women in software development is one problem they encounter. Finding female mentors or role models in the field might be difficult for women. It may be challenging to maneuver in a field where men predominate.


Data Science
The subject of data science in the IT sector is expanding quickly. By using data to assess and resolve challenging business challenges, women can have a tremendous impact in this industry. Yet, research by Accenture found that the proportion of women working in data science is barely 30%.
The dearth of women seeking degrees in data science is one factor contributing to this. Less than 40% of undergraduate computer and information science students are women, according to the National Science Foundation. To address this issue, efforts must be made to promote STEM education among girls from an early age and to increase the chances for women to work in the field.


Cybersecurity
The IT sector's crucial subfield of cybersecurity defends people and companies from online dangers. Women can significantly advance this subject by creating security measures and technology that protect data. But there are not enough women working in cybersecurity. Only 24% of cybersecurity positions, according to research by ISC2, are held by women.
The notion that cybersecurity is a technical career requiring a degree in computer science or engineering is one factor contributing to this gender gap. Yet, cybersecurity calls for a wide set of abilities, including critical thinking, risk management, and communication. Women who possess these abilities ought to think about a career in cybersecurity.


Product Management
Leading the creation of new goods and services is a key responsibility of product management in the technology sector. Using their technical and communication talents to promote innovation and growth, women can succeed in this position. But there is a gender gap in product management. Only 34/8% of product management positions are held by women, according to Zippia.com.
The lack of diversity on product teams is one issue that women in product management must deal with. This may result in a lack of understanding of the needs of various clients and the inability to develop products that satisfy those needs. To guarantee that their products are built with a variety of viewpoints in mind, businesses should work to build more inclusive and diverse product teams.


Entrepreneurship
Women interested in making a difference in the technology sector can consider starting their own businesses. Women can launch disruptive enterprises that address real-world issues and upend monopolized markets. Yet, there is still a gender imbalance in entrepreneurship. Only 40% of new business owners are women, according to research by the Kauffman Foundation.
Lack of money and access to capital are two factors contributing to this. Access to venture finance and angel funding is frequently hampered significantly for women. There are already a number of programs like Women Who Tech and SheEO that try to fund and support female entrepreneurs in order to address this issue.
Final Word
By pursuing jobs in software development, data science, cybersecurity, product management, and entrepreneurship, women can contribute significantly to the technology sector. However, there are many obstacles for women to overcome in these industries, such as a lack of mentorship, financing, and representation. Companies and organizations should work to build more inclusive settings and offer mentorship and support to women pursuing careers in technology in order to overcome these difficulties.
Initiatives to promote girls' interest in STEM fields from an early age can also aid in closing the gender gap in technology. This includes initiatives like Girls Who Code, which mentors and teaches young ladies computer science.
Finally, it is critical to recognize and appreciate the accomplishments of women in technology. We can encourage the subsequent generation of women to pursue professions in technology and foster a more diverse and inclusive sector by highlighting the accomplishments of female industry leaders.
In the tech sector, women must play a crucial role. Women may have a big impact on the industry and spur innovation and growth by pursuing jobs in product management, data science, cybersecurity, software development, and entrepreneurship. The difficulties faced by women in these disciplines must be addressed, and more inclusive workplaces must be developed in order to promote and encourage women in technology.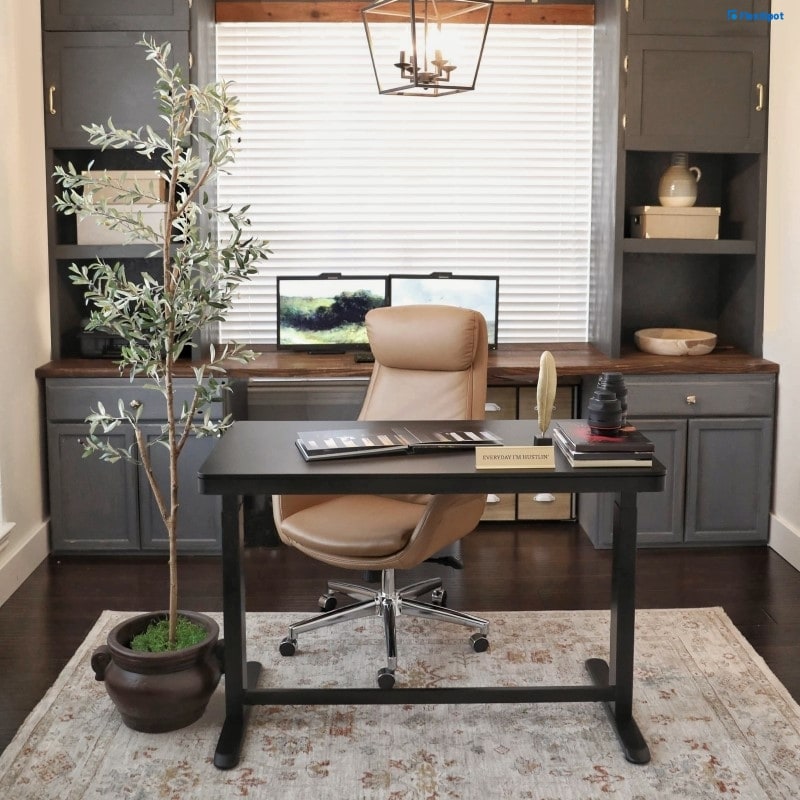 Recommended Ergonomic furniture to be more efficient:
Technology is a very fast-paced, dynamic competitive industry. In order to make it, one has to be efficient, productive, and highly motivated. One way to do that is to invest in a piece of ergonomic furniture for accessibility, convenience, comfort, luxury, good health, and significantly improved work performance.
This standing desk boasts its smooth and easy transition from 28.3" to 47.6" It takes up minimal floor space which will be perfect for those with small homes or limited space for a work area. Even then, it still features a spacious desktop measuring 48" x 24". The legs are made of powder-coated steel tubing that is scratch and stain-resistant.
This desk can easily fit a laptop, keyboard, mouse, paperwork, desk accessories, and two monitors. The control panel allows you to program four-height memory presets and also comes with USB ports. It has an anti-collision function that ensures your objects or devices are protected while the desktop is in motion.