There are so many special occasions that don't stop just because we have the Christmas holidays around us. Even though it's busy everywhere preparing for family dinners and friend reunions, there are still birthdays, anniversaries, and other milestones that coincidentally happen in December too.
As a December baby, I can't tell you how many times people have asked me if I just get one gift for Christmas or for my birthday. Before I could answer, my knee-jerk reaction was to laugh because it's true and a valid excuse to just get someone one gift for a special December occasion and for Christmas. It's practical and reasonable, especially for those who have other bills to pay. And of course, we shouldn't expect and ask for gifts and we should just appreciate it if we even get one.
But just for discourse, don't you think those who have special celebrations in December also need to be celebrated "properly?" And by properly, we mean, having a separate occasion for it since it's not Christmas that you are being happy about. For instance, your firstborn was born on 23rd December and you want to celebrate that milestone in your life and be thankful of the life you were able to bring out to this world. Or maybe it's you and your partner's anniversary. Maybe you've been friends for the longest time and decided to call it official on the December date. Maybe it's your mom's 10th anniversary as a business woman.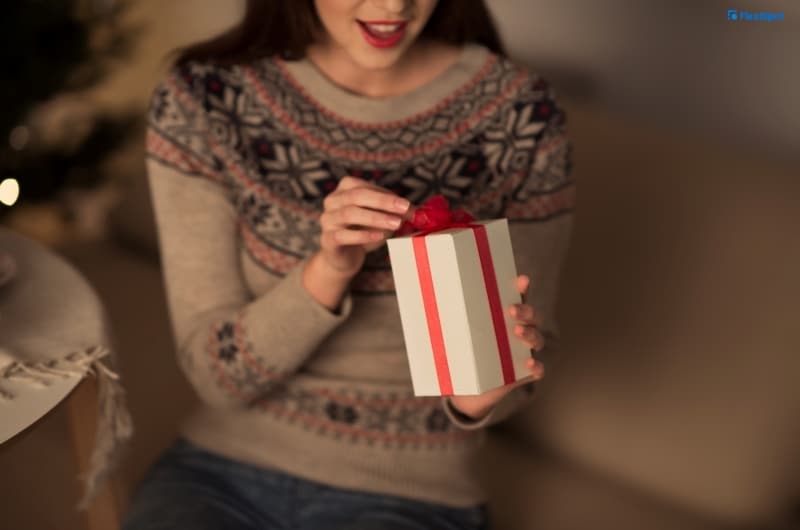 There are so many reasons why you may be happy in December aside from the Christmas festivities. And besides, when you celebrate a friend's birthday in October, does Christmas get canceled because the birthday was the first event?
It just doesn't make sense. But more importantly, I sympathize because as I mentioned I'm a fellow December baby who just wants to open presents on Christmas Day and also for my birthday to still be celebrated on the day itself. I don't want to have to choose like others who were born in a different month.
Anyhow, if you or someone special is celebrating something this holiday season we recommend making them feel the most loved by handing over gifts, practical ones that can make their lives much more convenient. We listed down below some FlexiSpot products to check out.
Instantly upgrade your workstation with a desk converter. This particular product has a spacious 31.5" wide work surface that can easily fit two 24" monitors and a 28.4" wide quick-release keyboard tray. It makes use of high-powered gas springs that makes adjusting the height of the product smooth and stable. It is specially engineered with a bracing system that can respond immediately to rapid falls even if the desk is at full capacity. For extra safety, the desktop comes with rubber crash-prevention pads and the legs have protective rubber feet. You can easily install a monitor mount, thanks to the product's integrated monitor mounting grommet.
BIFMA-certified, this product is extremely stable and has a reliable weight capacity of 355 pounds. Its leg columns are thicker than the usual while the column gap is scientifically designed to be 0.05 mm, ensuring a smooth lifting operation. The base structure is made of solid carbon steel, reaching an automotive-material grade. It is guaranteed durable, passing 20k motion tests. And plus, you are entitled to a 15-year warranty upon purchase.
Customers also love its sleek appearance with a laser-welding technique used for its frame. It features an aesthetically pleasing holeless leg design and uses a Nordson Enviro Coat powder spraying system that's sustainable and eco-friendly. It is temperature-resistant and has an anti-wear coating which makes sure the color stays consistent for a long period of time.
Its adjustable height range is from 22.8" to 48.4", providing a user-friendly experience for people that stand 4'2" to 6'4".
It comes with an embedded cable tray that is conveniently hidden under the desktop. It makes use of a premium keypad with a USB charging port, two programmable height presets, and a sit-stand reminder.
This ergonomic chair from FlexiSpot proudly features a 3D lumbar support system, 135-degree lounge tilt, and 4D adjustable armrests.
It has three height adjustment levels with a system that gently rebounds. The elegantly curved backrest will conform to the neck and spine which will provide the maximum headrest and lumbar support. The armrests are adjustable in four dimensions that contour effortlessly to the arms and elbows. It is made of Italian-imported chenille and K+R temperature-sensitive fiber that will provide maximum ventilation and the most delicate of fabrics. It also features the best-in-industry Samhongsa Class 4 Gas Lift which guarantees that this chair will be able to handle whatever you throw at it.
There will be days that you will feel sluggish at work, especially in the afternoons when the day has dragged out for too long and there are many distractions around you. You would really be thankful for a chair that can boost your energy at any time and also check off your workout requirement for the day. This FlexiSpot product has comfortable pedals that hardly make any noise during pedaling, meaning it can be used comfortably even while in meetings and having the other partner around the room. The bike features a calorie tracker to monitor your progress and a customizable cardio with adjustable resistance levels. The height of the seat can be adjusted according to your desire and the removable keyboard tray may be used as a desktop. It's compact and reliable which FlexiSpot customers love. It will be easier as well to remain consistent with exercise because using this desk bike during work doesn't feel like a strenuous workout at all.
Final Word
If you're a December baby or are celebrating anything special this month, the best way to not get frustrated is to communicate. Don't allow the other person to just read your mind because 1, it's impossible unless they have special powers and 2, you make things happen when you don't send mixed signals and just say what you want. Happy celebrating!