Are you done with snoozing your alarm and dragging yourself out of bed like a zombie? Still clinging to your sleepwear like a safety blanket? Well, buckle up, buttercup, because it's time to level up. While the thought of working from home in your pajamas may sound like a luxury, it's time to face the music – this routine is so last season. As someone who's experienced the WFH life, I'm telling you that dressing up can give your productivity and mental health a much-needed boost.
I get it – you may think that slipping into your jammies saves you time and energy, but believe me when I say that your work output may be suffering. Listen up, ladies – it's time to retire those pajamas and embrace your inner girl boss. Trust me, I know it's tempting to roll out of bed and hop straight onto that Zoom call, but by putting in a little bit of effort and dressing up for work, you can shift your mindset from lazy mode to boss mode. It's a subtle but powerful trick – when you look the part, you feel the part. So, go ahead and rock that business casual attire, invest in an ergonomic chair and standing desk, and show the world that you mean business.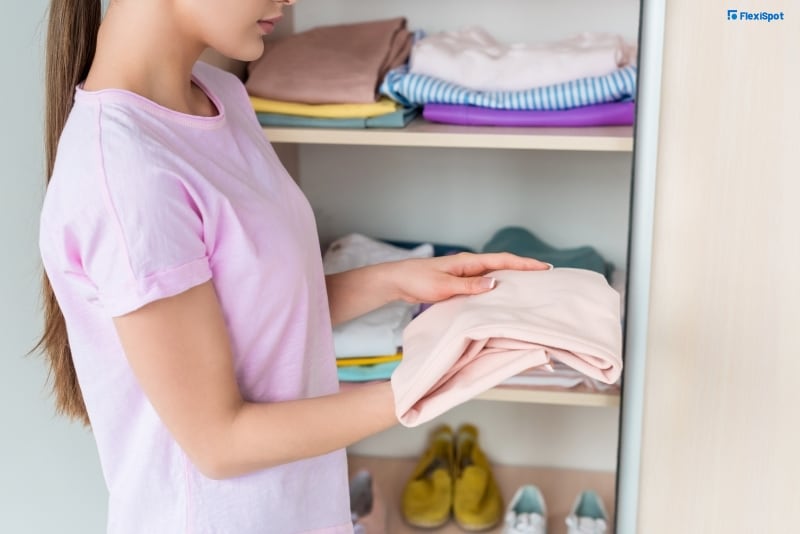 So, let's make a pact to retire the pajamas and step up our work-from-home game. You'll thank yourself for the extra boost of confidence and productivity, and your pajamas will thank you for finally getting a break. Trust me, girl, you've got this – and a little bit of business casual never hurt anyone.
Hey, don't you dare give me that eye roll and hit that close button yet, my friend! Let me pitch this to you - you know those days when you just laze around in your pajamas and feel like a complete bum? No matter how much caffeine you guzzle, you just can't shake that foggy feeling off. But guess what? Getting dressed can be a total game-changer, my friend. When you put some effort into your appearance, you unconsciously set the vibe for the day ahead. It's like you're telling your brain, "Yo, it's time to crush this day and get to work, my friend!"
Alright, let's cut the crap and get real here. We're not saying you gotta rock that ball gown or a fancy suit and tie (unless that's your jam, then you do you, boo). The beauty of working from home is that you have the liberty to wear whatever floats your boat and makes you feel like a million bucks. Personally, I love throwing on a cute blouse and some comfy pants or slipping into a sleek jumpsuit that screams "I'm a boss babe!" The trick is to find that sweet spot between being comfy and still looking profesh.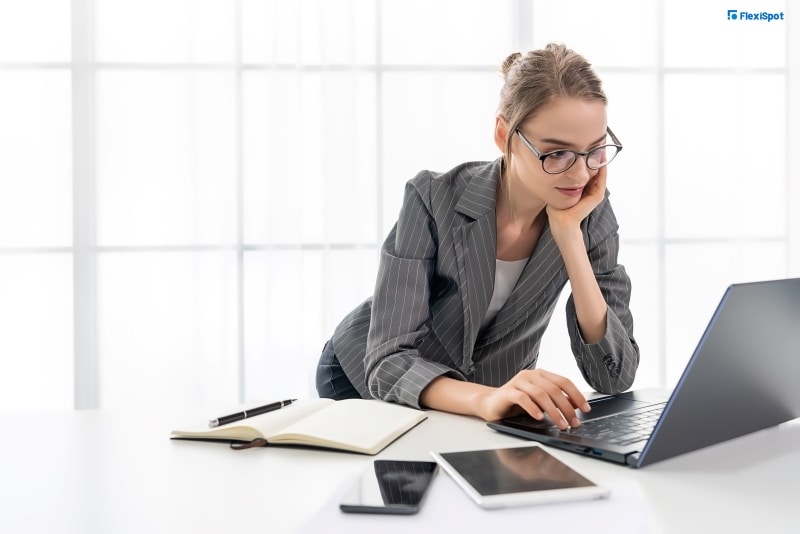 Hold up, I can already hear your thoughts! "Why should I bother dressing up when I'm stuck at home?" Listen up, buttercup, it matters because it can totally change your game and boost your mood. When you're all dressed up and feeling fly, you're more likely to feel like a total boss babe, ready to tackle anything that life throws at you. It's like slipping on your superhero cape and turning into your badass alter ego.
it's not just about feeling good in your head, it's also about taking care of that gorgeous bod of yours. Ever had those annoying back pains or stiffness from sitting at your desk all day? Yikes! That's where ergonomic chairs and standing desks come in, my friend. Trust me, investing in these bad boys can make a world of difference in your posture and comfort levels, which equals less pain and more work done. Ain't nobody got time for a throbbing backache while trying to focus on a task, am I right?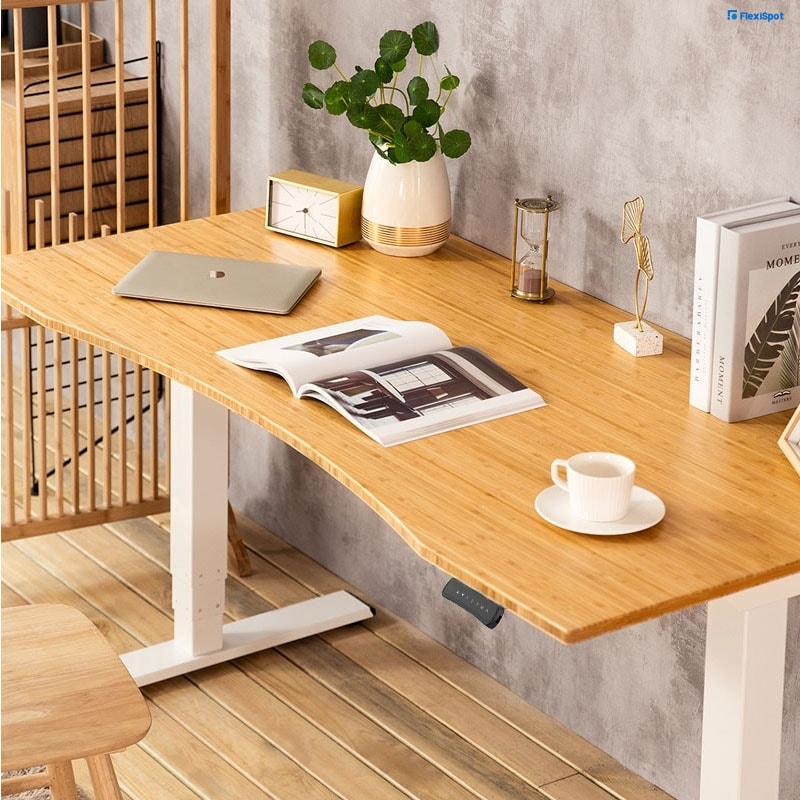 Let me spill the tea on my not-so-secret obsession: FlexiSpot's Kana Bamboo Standing Desk is a total game-changer, girl! The bamboo tabletop is eco-friendly and has a sleek, sophisticated look thanks to the lateral compression technology that keeps the natural finish intact. Plus, the 2H lacquer finish makes it water-resistant, bug-proof, and scratch-resistant - talk about durability! And if you're worried about height, don't sweat it because this desk can adjust from 28" to 47.6" to fit all sizes. Oh, and did I mention there are two keypad configurations to choose from? One with simple up and down buttons and another all-in-one keypad with three programmed presets - now that's some next-level stuff!
And now, for the fun part. Let me share with you some funny anecdotes that perfectly illustrate why working in pajamas is overrated. One time, I had a virtual meeting with my boss and accidentally left my camera on after the call ended. My boss got a full view of my mismatched PJ set and unkempt hair. Needless to say, I was mortified. Another time, I decided to work in my pajamas all day and ended up taking an unplanned nap that lasted a little too long. When I woke up, I had missed an important deadline and had to scramble to get the work done. Moral of the story? Pajamas may be cozy, but they can also be a productivity killer.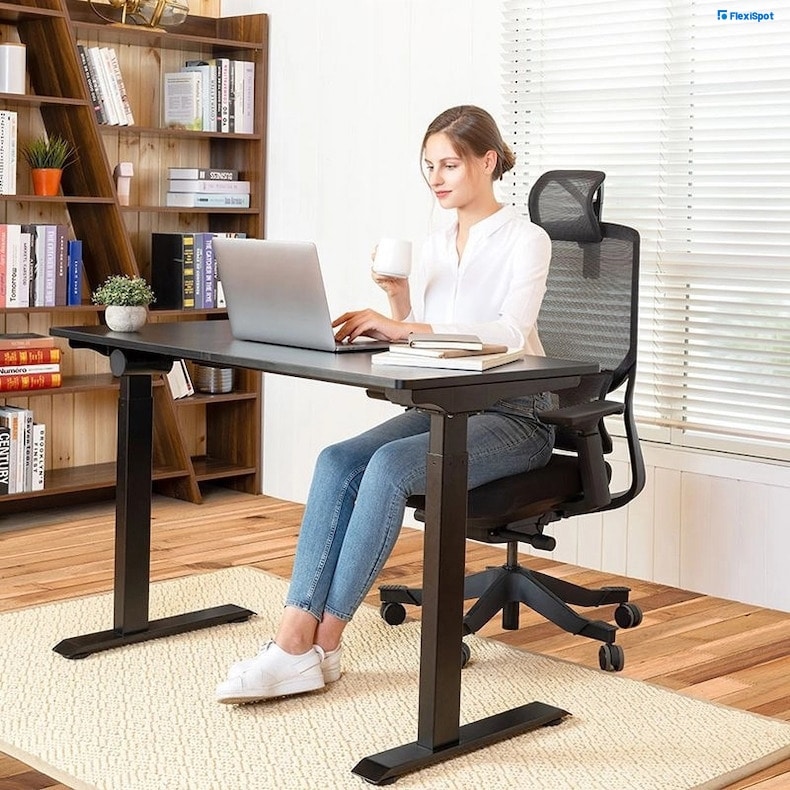 In conclusion, dressing up for work, even when you're at home, can have a profound impact on your productivity and overall mental and physical health. By finding that balance between comfort and professionalism, investing in ergonomic chairs and standing desks, and putting effort into your appearance, you can become the ultimate girl boss and ace your workgame like a pro.
I know it's tempting to crawl out of bed and shuffle straight into your workspace in your PJ's. But hold up, my friend, give yourself a sec to put yourself together. Find an outfit that makes you feel like a total badass and set up your workspace like a pro with a standing desk and a cozy ergonomic chair. Your body and brain will thank you big time, I promise.
Hey, don't forget that you're a total rockstar, sis! Your home office should scream girl power, so dress to impress and take control of your workspace like the boss babe you are. You've got all the tools and the right mindset to crush any obstacle that crosses your path, all while looking like a million bucks. So, go ahead and show the world what you're made of, and slay that workday like the girl boss you were born to be!