The global pandemic did not stop the busiest corporate achievers from attaining their career goals, and the new work paradigm just intensified their desire to excel. As 80% of individuals choose the WFH setting, the need for an effective equipment piece increases. 


The Hectic Work Days:
While working from home, individuals find it difficult to avoid the threat of repetitive strain injuries, especially with the equipment pieces that they have. Some of these products are non-ergonomic, so they get exposed to the danger of biomechanical pain. 
In a typical workday, an employee needs to finish a lot of workloads. In actuality, research shows that the workload of a Canadian worker increased by more than 20%. It is for the fact that the transition from the on-site work set-up to the WFH set-up needed many adjustments, especially during the first few months of the pandemic. 
As workers' travel time has decreased, the workload has increased, which caused them much distress. So, as a result, more WFH people experienced physical pain alongside anxiety and feelings of uncertainty throughout the global pandemic. Indeed, multitasking and achieving goals for a day is a tricky thing to do, especially when you don't have sufficient pieces of ergonomic products. 
Hence, in that case, FlexiSpot is here to help the WFH people protect themselves from the threat of repetitive strain injuries. 


RSIs and Ergonomic Solutions:
RSIs or repetitive strain injuries start from the strains and numbness from a sedentary lifestyle and repetitive motions. When a person does not alternate movements when working, there is a tendency of wear and tear or strains in the muscles. Thus, there is a limited range of motion or inability to move flexibly. 
When these strains become worse, a person might experience spine-related injuries or severe conditions such as frozen shoulders, Elbow Tennis, or muscle spasms. So, to alleviate the worries and stress on these possibilities, there is FlexiSpot to help individuals that experience musculoskeletal disorders. 
FlexiSpot is known for the best standing desk, sit-stand desks, stand-up desks, and desk converters. The brand ensures that the ergonomic products that they create are above and beyond the competition. These products have the best features and functionalities that can help a worker avoid having biomechanical pain. 
Indeed, for many years, FlexiSpot had offered many sought-after ergo products in the market, including Massage Gaming Chair, Kana Bamboo Standing Desks, and Deskcise V9 Pro. These ergonomic products gave convenience to the workers that always experience sudden pain in the upper extremities and sore legs. With the height adjustability of the standing desk and the flexible rocking function of the gaming chair, many workers have found solutions to their ergonomic problems. These equipment pieces save the workers from the worst RSIs. 
So, just like these products, the desk converters from FlexiSpot can also propel and optimize the workers' work performance. So, from a simple 9-5 job, it becomes a multifaceted undertaking at work. The WFH individual finds more meaning and an incredible sense of fulfillment when he uses the products from FlexiSpot. 
At FlexiSpot, a worker can choose from three desk converters: Standing Desk Converters M7 Series, Standing Desk Converters M7MB-35", and Standing Desk Converters M7B-28". All these desk converters have unique functionalities and designs that can safeguard the posture of the person utilizing them while the individual uses these desk converters at work. 
These designs of these desk converters can complement the curves of the spine, and they can protect the workers against musculoskeletal disorders. These individuals can avoid spine strain and shoulder pain when they use these products. 
Understanding The Prowess of Each Desk Converter
The desk converters of FlexiSpot are genuinely remarkable, and they have functionalities that can help you practice the proper posture. When you use any of these desk converters, you protect yourself against strains and muscle pain. 
a. Standing Desk Converters M7 Series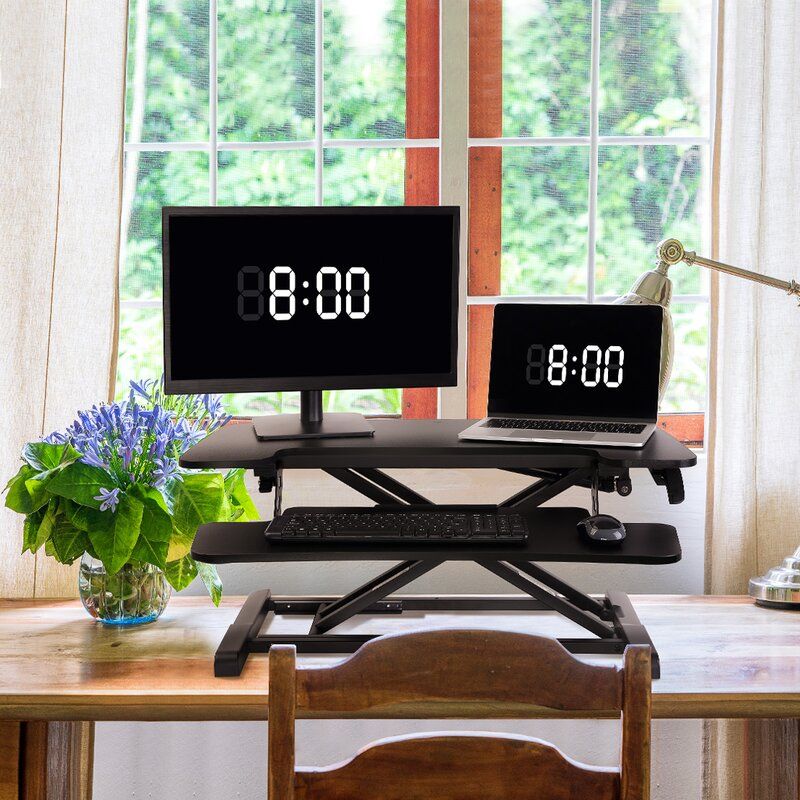 One of these desk converters, the Standing Desk Converters M7 Series, is suitable for individuals with more than one laptop and two monitors. Meanwhile, the giant keyboard tray of this desk converter can carry the weight of the computer while the desktop can bear the weight of two monitors. Moreover, this desk converter has an X-Lift Structure that supports the importance of the desktop and keyboard tray. 
Despite the robust structure of this desk converter, you can efficiently operate on it. Using single-hand lifting, you can lift the desk converter and use it without the structures collapsing and the objects on top falling off. 
Indeed, this desk converter is a must-have if you are a very busy person that needs a space-saving but robust structure. When you have this piece of equipment in your home office, you can make sure that you can have an efficient work pacing. 
b. Standing Desk Converters M7MB-35."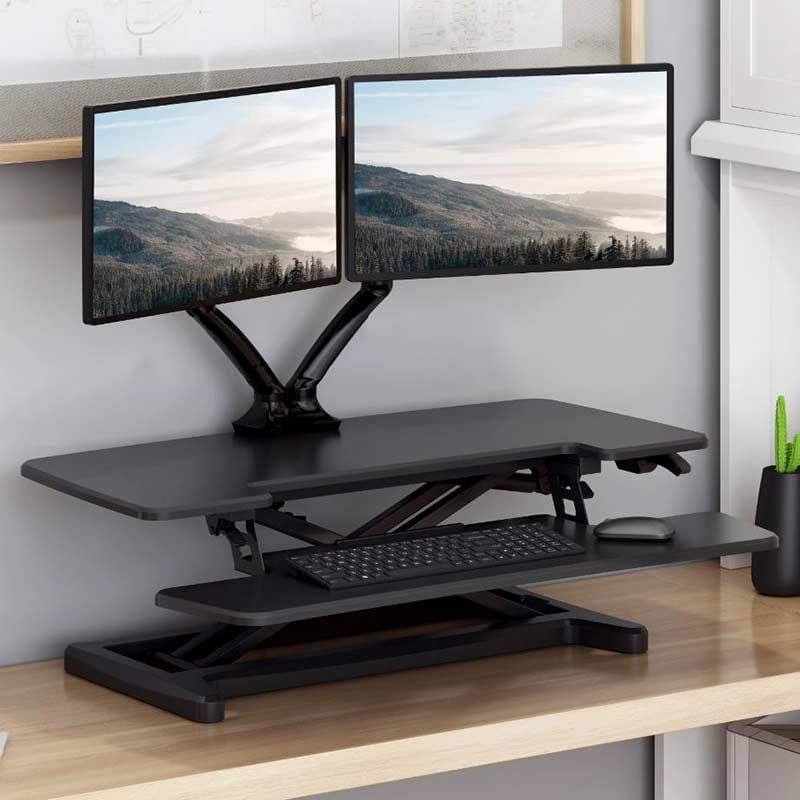 The second desk converter is a 35-inch product that can also handle two monitors and a laptop. It's a product with a spacious two-tier design, so with this feature, you can maximize the workspace and multitask efficiently. If you want to carry this and put it in the kitchen while working and preparing breakfast, you can do so because it's easy to carry. 
You need to lift it with your hands and adjust the height of this desk converter. So, as a result, you can avoid wrist and arm pain. Usually, when you use a non-ergonomic desk, it will take a lot of pain around the wrist and hands before adjusting or moving the equipment. But with this desk converter, that task is as easy as pie. 
What's unique about this desk converter is that it has shortfall prevention that ensures the stability of this desk. You don't need to worry that the product will collapse with the devices you put atop this desk converter. 
c. Standing Desk Converters M7B-28."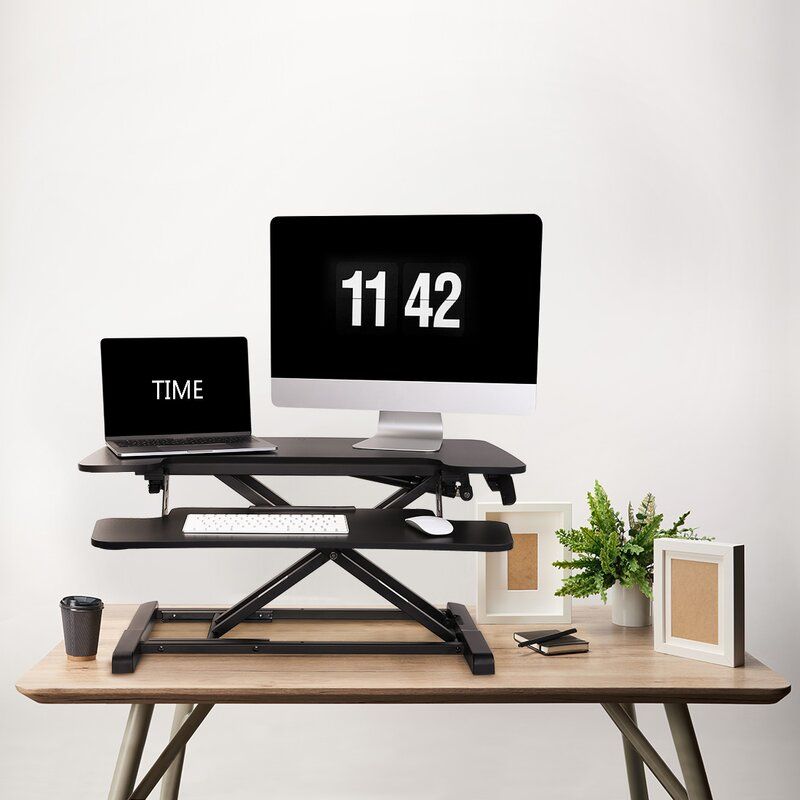 The last desk converter is the Standing Desk Converter M7B-28". This product is the most budget-friendly because it will only cost you CA$184.99 if you check the website now. What's impressive about this is you can have a desk converter that can last for a long time. 
So, if you have this product in your home office, you can ensure that you can get the protection that you truly deserve. 
Final Thoughts:
Office upgrades can be better and more manageable when you rely on the products like the FlexiSpot Desk Converters. It's because when you trust these products, you can save more money. Moreover, you can ensure that this product can protect you from the severe effects of musculoskeletal disorders.