Yes, it's extraordinary to get into an ivy league, finish a Ph.D., or patent your own invention, but try to sit down with these geniuses and ask them about their hardest struggle in life. Answers will vary but you would probably hear a lot of them say that it's hard to meet and fall in love with someone. It is one of those goals in life that is definitely easier said than done.
For some, the dating scene has become exhausting. For every new person you meet, the cycle repeats and you have to go through another round of getting to know a stranger without seeing if you have a future together. And if an engagement or marriage does happen in the end, the journey to get there and after that is not as smooth-sailing as it is perceived by others. But for us hopeless romantics (and probably, cynics as well) love is always worth the risk, and that you should both have the willingness to commit for the relationship to work out. If you put in the work, it will eventually reward you with happiness beyond levels that you could imagine.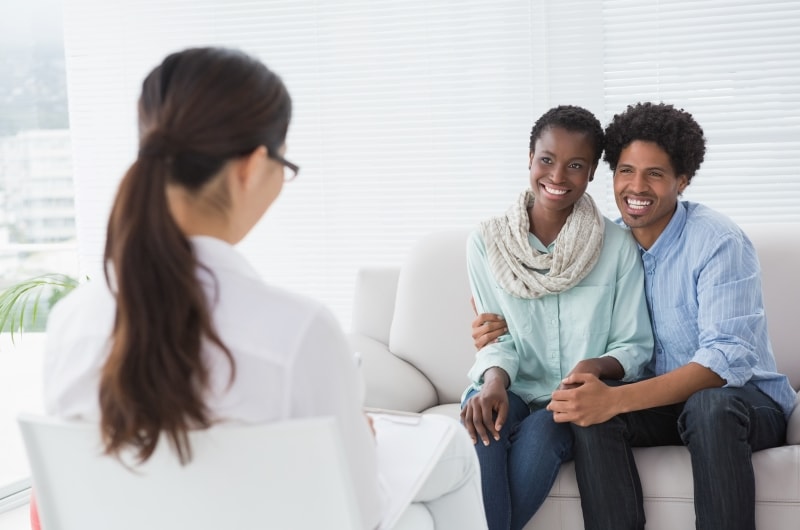 Understanding each other's love language will help you nurture your relationships, especially that of your partner. Hundreds of couples come to marriage counselor Gary Chapman to seek guidance in their relationships. This helped him create the five love languages that we know of today namely Receiving Gifts, Words of Affirmation, Acts of Service, Quality Time, and Physical Touch. A love language is how you prefer to give and receive love in a relationship, whether it be shared with your friend, family, or romantic partner.
One big misconception about people whose love language is Receiving Gifts is that they are materialistic. In reality, these people don't really care about the material things themselves but the intention behind these tangible objects. It's when Carlos remembers Kim after a hard day's work and buys her favorite dark chocolate before heading home. It's when Regine gets Yvan the jacket he was looking at inside a fashion magazine. It's when Anne prepares her kid's lunch for the day and leaves them heart-shaped notes. People with this love language put great value on gifts they receive because of the intention, the effort, and the reminder it serves that they are loved. People who love receiving gifts grow sentimental of tangible objects, reminding them of a beautiful relationship.


How to Tell If Receiving Gifts is Your Love Language
There are many telltale signs that say if Receiving Gifts is your love language or your partner's. To communicate what you want in a relationship and also satisfy their needs, you must know what your love language is. You could tell it's giving or receiving gifts through these signs:
Receiving gifts is your love language if you love shopping in general and think of others while you add to the cart.
Receiving gifts is your love language if when on vacation, you don't forget to buy souvenirs for your loved ones.
You have a reputation that you're a giver for any occasion.
You probably have a wrapping station at home complete with wrapping paper and gift bags in stock.
You remember every detail about every gift you received, the occasion, and the people who gave it to you.
It's hard for you to let go of old gifts even though they're already old and dusted.
You like to collect memorabilia.
You send food, flowers, or any gift to cheer your stressed friend up.


Managing Expectations
It's really frustrating to not receive gifts or favors when your love language is receiving gifts. Your partner gives little to no value to them which will naturally make you feel unloved in the relationship. But instead of sulking in self-pity and hating your partner, learn to manage expectations without trying to change anyone. Once you have found a compromise that works for you both, it would lessen the fights and make you both happier in the relationship. Just a reminder to not expect your partner to be able to read your mind and get you what you want. It might sound romantic that he or she knows what to buy or what you want without asking you but that's not always the case. Most often than not, it's not. Save yourself from any heartbreak by getting something you really want yourself or being open to your partner about it.
Gifts also use money so a conversation about it may be helpful to manage expectations and avoid conflict.
Gift Ideas
A thoughtful, practical gift is never a waste of money when you think of the value it'll give to improve a person's quality of life. Investing in a well-thought-out gift also makes its value last longer. Since most people work from home now, consider giving your special someone something he or she can use at his or her workstation.


1. Comhar All-in-One Standing Desk Wooden Top
This fully-featured, multi-functional desk might just be the desk of your dreams. It has a height adjustment feature, USB charging ports, and a built-in drawer. You may quickly change and adjust the height as you please from 28.3" to 47.6." Its control panel has up and down buttons and four programmable height presets with saved preferred height settings. It comes with three Convenient USB charging ports (2x USB Type-A, 1x Type-C) to cater to your different changing needs. You don't have to worry at all about entangled cords too. Lastly, it has an embedded pull-out drawer that provides an integrated storage space for desk or office supplies.
Price: CA$629.99


2. V9 Pro Home Office Height Adjustable Cycle Desk Bike
To boost your partner's energy while working, you might consider giving him or her a desk bike. This one from Flexispot is a favorite among customers. It was a 2018 Honoree at the CES Innovation Awards. The bike has a pneumatic adjustment lever so that you could easily adjust the seat's height. It has an integrated digital display that would show how long your workout was, the calories you burned, and the speed. You may also adjust resistance levels starting from 1 to 8. It comes with a removable spacious desktop and lockable gravity casters that allow you to move around the office and just lock when you don't want to play anymore.
Price: CA$559.99
Final Thoughts
Do not be pressured to satisfy your partner's desire to feel loved by receiving gifts. The price tag doesn't really matter; rather it's the thought and the intention behind the gift that really counts.