Workers in Canada are frequently over the moon during work hours. Indeed, Canada is the home of hardworking individuals that dedicate their time to their projects and tasks. Part of the work values of Canadians is to finish a job even for 30 minutes; they can have their lunch while working in front of the computer, in actuality. What's more fabulous about it is, Canada is a pioneer country in offering flexible work options. The country's work industry started this system long before other companies across the globe embraced the concept of the remote work setting. Hence, company employees in this country value every minute that counts during work hours. 
On the other hand, there are hurdles now that they might experience while working, especially since the number of WFH-people increases. The threat of the Lambda and Delta variants is still taking place in Canada and different parts of the world. In this case, employees need the ergonomic protection that they need to optimize their work performance. 
One of the ways to have a whale of a time as they optimize their work performance is to make sure they can maximize their workspace. Indeed, with the help of the best furniture and equipment pieces, they could carry on with their work goals for the day. 

Propelling Work Performance with the Ergonomic Products:
When workers need to optimize their movements and performance at work, they need the pieces of furniture and equipment that would give them the protection they have to take because they would not be able to finish a task smoothly. They would even encounter MSDs (musculoskeletal disorders) or RSIs (repetitive strain injuries) that can weaken and slow their energetic performance. Indeed, working from home has this downside because workers have the limited space at home; whether it's a cottage style or a modern style house, it's still crucial that workers optimize their workspace. 
It's where the role of FlexiSpot (the best provider of superb standing desks, desk converters, and desk bikes) takes place. With the FlexiSpot ergonomic products at the employee's workspace, you can ensure that he can multitask and meet a deadline at work. Most of all, the efficiency of the ergonomic products can ensure that your employees can avoid RSIs and MSDs at all costs. 
Maximizing the WorkSpace in 5 Ways:
a. You Can Put the Heavy Office Materials Atop the Bamboo Product: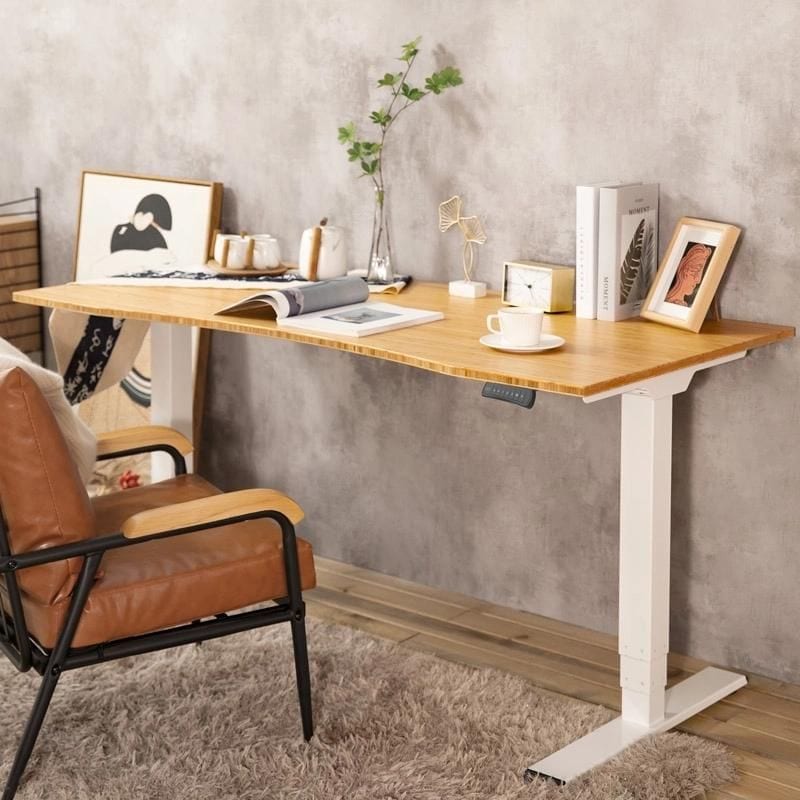 When you're an employee who needs to have faster pacing at work, you need an ergonomic product that can provide you with more rapid movement. Kana Bamboo Standing Desk of FlexiSpot is a great example. 
This desk product can adjust to the level that you need. Its height adjustability is superb thanks to the single and dual motor lifting capacities that the models of this standing desk have. The Standard (EN1) and Pro (EQ3) models have the three memory presets (you may save your desired height on this keypad) and a sit-stand reminder so you can ensure that operating on this desk product can give you the convenience when you need to take a phone call. At the same time, you try to adjust the height of this desk. 
Moreover, when you have to put a large monitor and hardbound books, its tabletop would not easily break because of the bamboo material they have used while having exceptional tensile strength. So, when you have this product, you can ensure that you put many office materials atop it. Plus, you can ensure that the steel frames that this product has come from high-grade materials. 
b. You Can Multitask On the Surface of The Standing Desk: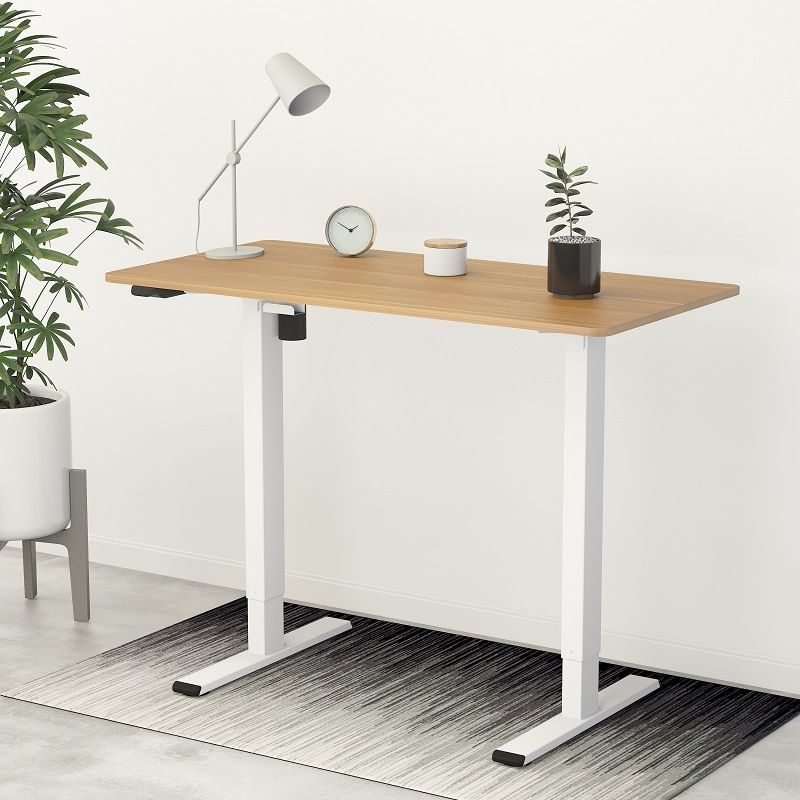 The broad surface of the sit-stand desk, such as the EG1-40"W Electric Height Adjustable Standing Desk, can give you the freedom to put all the necessary office materials without feeling cramped or seeing a crowded tabletop. You don't need to worry that those objects would fall off the table because the character itself is wide enough to hold everything on top of it steadily. So, you may set your phone on the surface together with the printer and device you need when working. 
c. FlexiSpot Desk Products Do Not Consume Much Space in the Work Area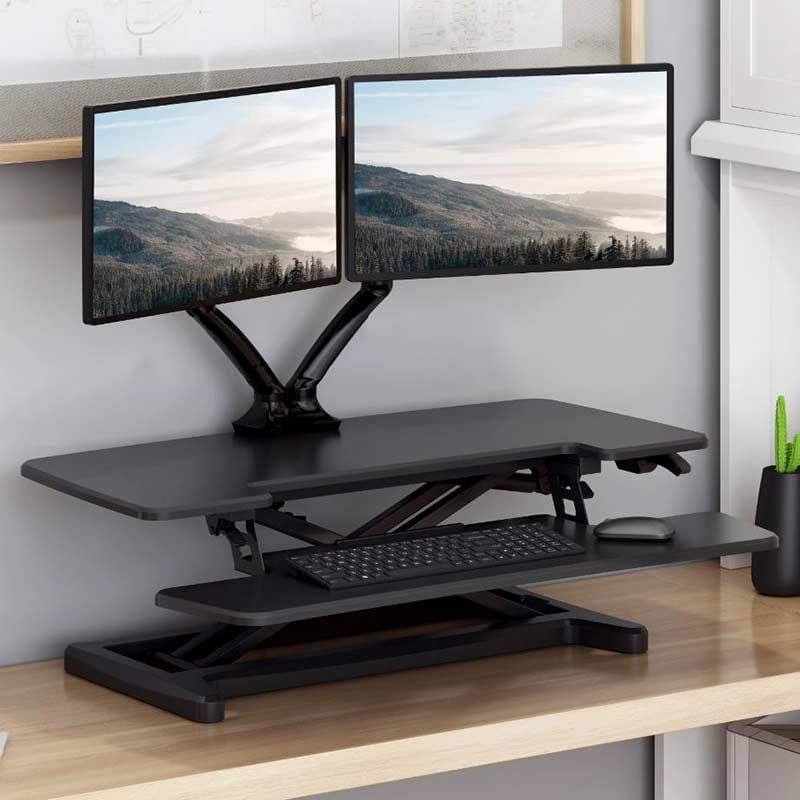 Desk products like the Standing Desk Converters M7MB-35" exemplify the FlexiSpot desk product that does not consume much space in the work area. You can change the height of this converter without needing an extension or an extra room to occupy. It varies in the same space. Hence, you can ensure that you don't need much space with this product because, with the help of the single handle control, you can enjoy typing on the removable keyboard tray with the monitor on the higher desktop that it has. 
If you choose to keep the furniture piece after using it, you may remove the keyboard tray and properly put it on top of the desktop and find a small space around the work area. You would not have the headache of thinking about how to organize your workspace because of this product. 
You may ensure that you can optimize your work performance to help you create a productive day at work. 
d. The Desk Converters Have a Stable Design. You Can Ensure its Sturdiness: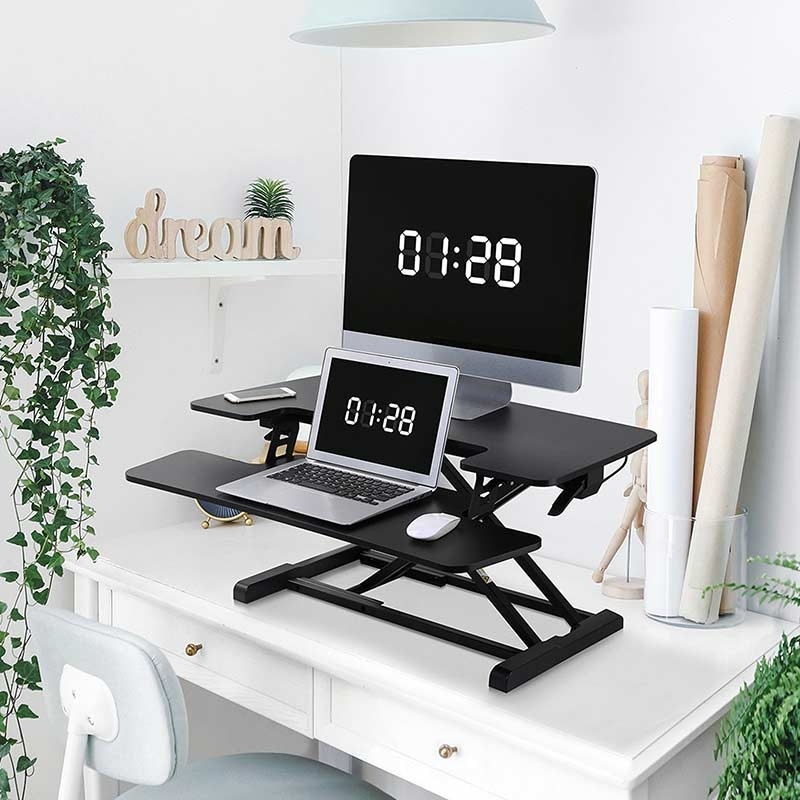 Indeed the Standing Desk Converter M7MB has a stable base that protects your office devices and materials from shaking. It has a heavy-duty steel frame that increases stability. When you use this product, you may ensure that you can protect your devices and yourself from accidents while you are working. So, you can ensure that even during a hectic schedule, you can do the remote work properly. 
e. Flexispot Standing Desks Can Fit Small Spaces at Home: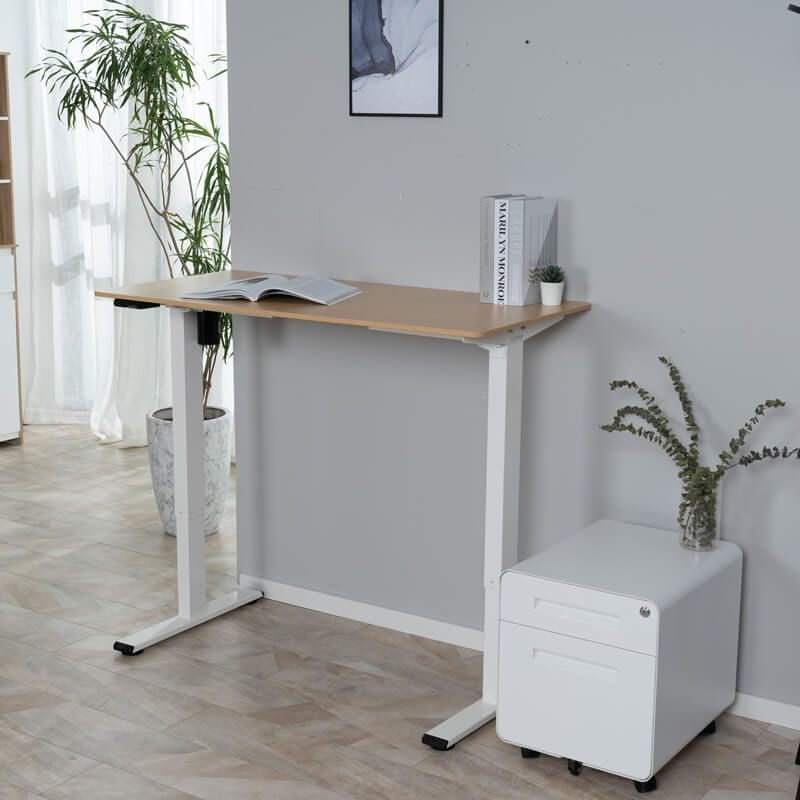 The Economic and ergonomic design of the standing desks from Flexispot can help you work. Stand-up desks like EG1-42"Electric Height Adjustable Standing Desk can be at the corner of your room. Indeed, it can help you maximize your work area. Its height range reaches up to 47.6" can help you avoid the passive pain you can get from a prolonged sitting. So, when you have this product in your home office, you can ensure that you would not experience a sedentary lifestyle, plus you could easily organize your workspace. 
Final Thoughts:
Today's work setting has evolved to tremendous heights, giving comfort to WFH-individuals who need protection from the sedentary lifestyle. Hence, with the help of FlexiSpot, employees like you can enjoy the work-life balance.