It's Father's Day, and if you're tired of the clichéd tie or "World's Best Dad" mug, it's time to step up your game. Say goodbye to mundane presents and say hello to the perfect gift combo for the hardworking dads in your life – an ergonomic office chair and a standing desk!
The Ergonomic Revolution
Your dad, ruling his office like a benevolent monarch, commanding the perfect ergonomic throne. Ergonomic office chairs and standing desks are the latest revolution in workspace comfort. These marvels of engineering are designed to adapt to the human body, ensuring optimal support, alignment, and efficiency.
Gone are the days of uncomfortable seating arrangements that leave your dad feeling like he's been through a medieval torture chamber. Ergonomic chairs provide lumbar support, adjustable armrests, and seat height customization, allowing him to find his personalized sweet spot. These ergonomic warriors are not just a comfortable upgrade but also prevent the dreaded "office hunchback" and keep back pain at bay.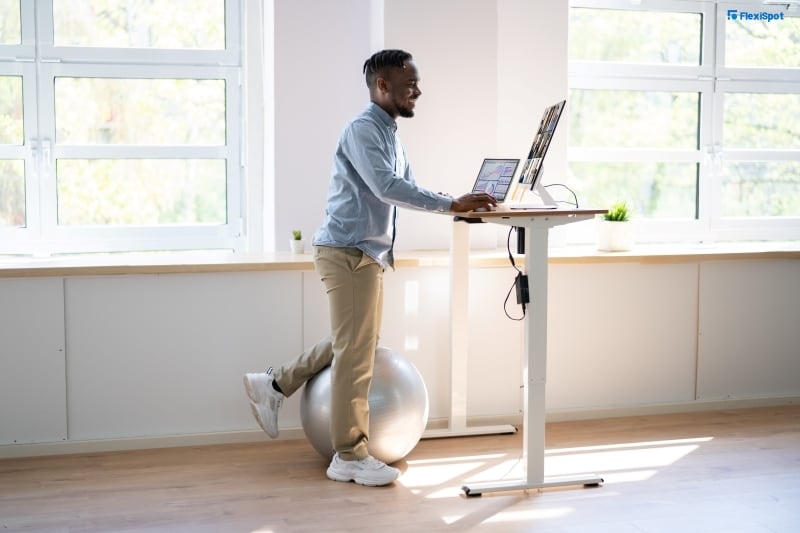 Rise and Stand with Style
Now, imagine your dad gracefully rising from his throne and conquering new heights with a standing desk. Standing desks are a game-changer, breaking the shackles of sedentary work habits. They allow your dad to stand tall, stretch his legs, and maintain a healthy posture, all while tackling his daily tasks.
Standing desks are more than just functional; they are a stylish addition to any workspace. With sleek designs and adjustable heights, these desks become the centerpiece of a dad's office, transforming it into a vibrant hub of productivity and innovation. Plus, they create the perfect environment for impromptu office dance parties (sorry, dad, your secret moves are no longer safe)!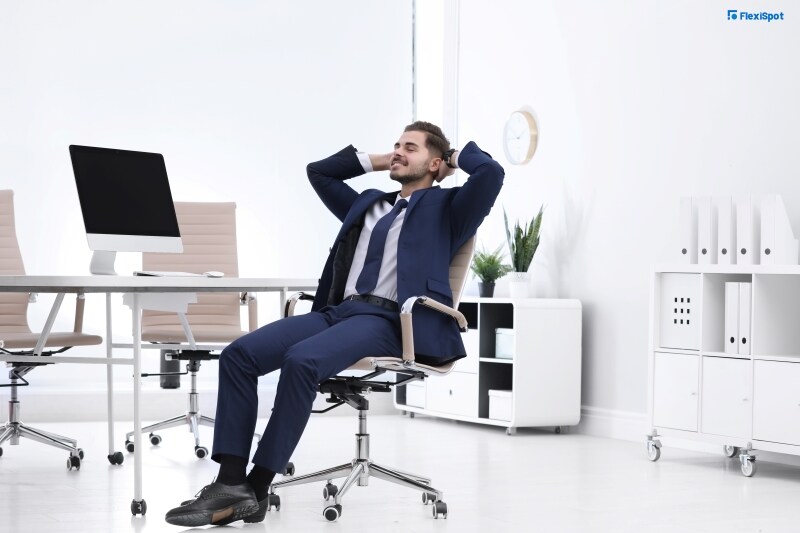 The Reign of Health and Productivity
Now, let's talk about the real treasures these gifts bestow upon your dad – health and productivity. Ergonomic office chairs and standing desks are not just fancy furniture; they are the knights in shining armor that combat the evils of discomfort and inefficiency.
Studies have shown that ergonomic chairs reduce the risk of musculoskeletal disorders, promote better blood circulation, and boost productivity. Your dad will be able to work longer and focus better without the nagging distractions of aching joints and stiff muscles. With the added benefit of improved posture, he'll exude confidence and command the respect he deserves.
Standing desks take it a step further by encouraging movement throughout the workday. Standing burns calories, increases energy levels, and enhances cognitive function. Your dad will experience a surge of vitality and creativity, turning his office into a powerhouse of ideas and accomplishments. Say goodbye to the afternoon slump and hello to a new realm of productivity!
FlexiSpot's Father's Day Deals: Up to 40% off
FlexiSpot's Father's Day Sale is here, granting you a golden opportunity to gift your dad the throne of his dreams. With deals up to 40% off on selected standing desks and ergonomic office chairs, it's time to elevate his work experience to regal heights. Don't miss out on this majestic offer!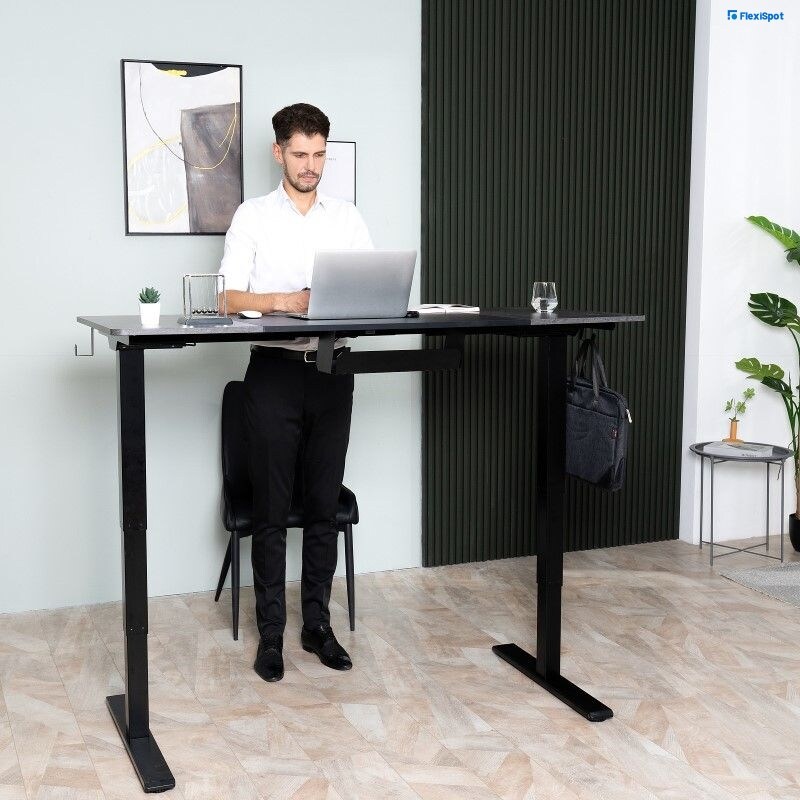 Sale Price: $339.99
Original Price: $569.99
Get ready to revolutionize your dad's workspace with the EP4 - the ultimate fusion of style and practicality, making it the perfect Father's Day gift! Equipped with a dual-motor lifting system and an impressive 220-pound weight capacity, this desk is as strong as it is sleek. With a height range of 25" to 50.6" and a smooth lifting speed of approximately 1.4" per second, it adjusts effortlessly without causing a ruckus (quiet as a mouse below 50 dB).
Safety first! The EP4 features an anti-collision mechanism, ensuring it instantly halts when encountering obstacles. No more accidental desk demolition! Plus, it comes with two nifty desk hooks, ready to hold your dad's essentials like a purse, jacket, headphones, and chargers, keeping his space organized. And let's not forget the cable management tray, a tidy solution for those pesky cords.
The EP4 includes a convenient USB charging port, ready to power up your dad's devices with ease. The environmentally friendly desktop is spacious enough to accommodate all his essentials - from the desktop and documents to the trusty laptop and accessories.
This Father's Day, give your dad the EP4 and witness his workspace transformation into a realm of style and efficiency. With its impressive features, noise-free operation, and eco-conscious design, it's a gift that combines practicality and sophistication.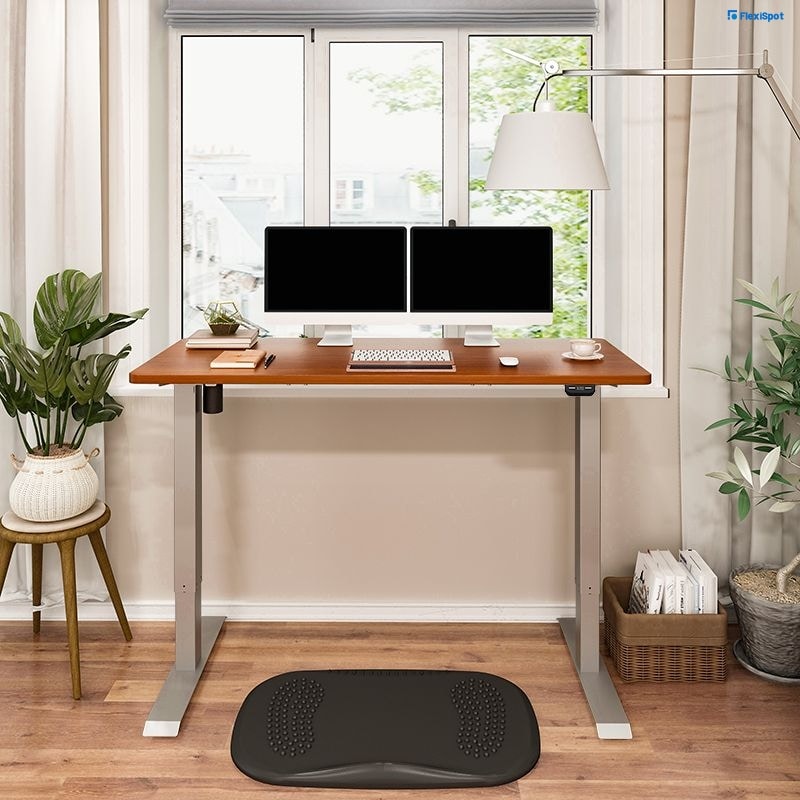 Sale Price: $169.99
Original Price: $179.99
Feast your eyes on the magnificent FlexiSpot Height Adjustable Standing Desk (E2) - the perfect workstation solution for any nook and cranny! Crafted with an eco-warrior's heart, this desk's bamboo top not only screams sustainability but also exudes elegance in its finishing. And don't you worry, it's as strong as Hercules, capable of supporting 187-lb workstation essentials. With a range of colors available, you can now infuse your personal taste into your work sanctuary. And get this: it measures a whopping 1-inch thick, making it 30% thicker and 50% more stable than those ordinary desks.
It's motorized, which means you can effortlessly raise or lower it with a mere tap of a button. No more straining your muscles or summoning the powers of the Hulk to find the perfect height. And let's not forget about the frame – it's as sturdy as a castle wall, supporting your workstation even when you're at the desk's peak height. The cherry on top? The height adjustment mechanism operates like a ninja, smooth and quiet, ensuring you can switch between different heights without causing a ruckus or becoming the office DJ of crashing objects. Oh, and did we mention it's been blessed with the prestigious Underwriters Laboratories (UL) approval? That's right! FlexiSpot standing desks meet the highest standards, ensuring they're not only effective but also built to last a lifetime.
This Father's Day, give your dad the gift that keeps on giving - the FlexiSpot Height Adjustable Standing Desk (E2). It's not just a desk; it's a work of art that combines sustainability, style, and functionality.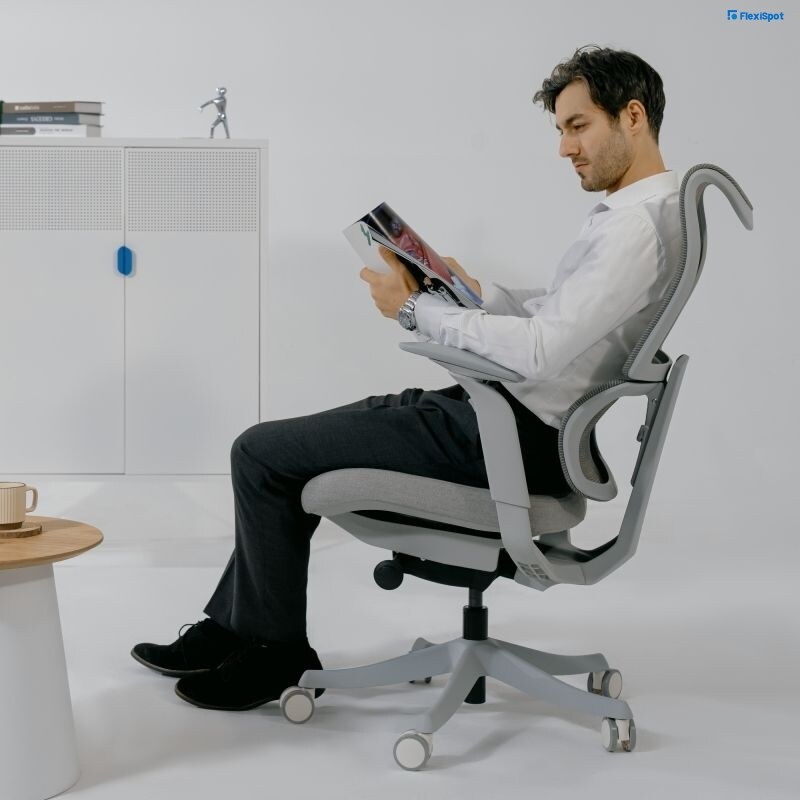 Sale Price: $279.99
Original Price: $399.99
Introducing the Flexi-Chair Ergonomic Office Chair BS14 - a true game-changer and the perfect Father's Day gift! This chair takes comfort and support to a whole new level with its exclusive ergonomic design. Say goodbye to backaches and hello to blissful seating!
Equipped with a 3D rotating armrest and a backrest that tilts up to 30°, this chair allows you to find your perfect position and take a break without ever leaving your seat. It's like having a personal relaxation station right at your desk! And the best part? The chair's sleek feet effortlessly blend into any office or home environment, ensuring both style and functionality.
Don't let the smooth ride fool you - this chair means business. Its 5 multifunctional castors glide swiftly and silently on any type of flooring, making it easy for you to move around without causing a ruckus. It's practical, stylish, and designed to enhance your work experience like never before.
This Father's Day, gift your dad the Flexi-Chair Ergonomic Office Chair BS14 and watch him conquer tasks with style, comfort, and a touch of sophistication. Say goodbye to ordinary chairs and hello to a seating masterpiece that will revolutionize his work life.
Conclusion
This Father's Day, go beyond the ordinary and give your dad an ergonomic office chair and standing desk fit for a king. These revolutionary furniture pieces combine comfort, style, and functionality, providing a throne worthy of his greatness. By bestowing him with these gifts, you're not just giving him physical comfort; you're investing in his long-term health, happiness, and success.
So, let your dad rule his workspace like a true monarch, free from the chains of discomfort and limitations. Witness the transformation as he sits tall, stands proud, and unleashes his full potential. The ergonomic revolution is here, and it's time to give your dad the throne he deserves!