Planet Earth is in Code Red. Humanity can no longer stay deaf to the cries of Mother Nature because its finite resources are getting depleted and at this rate, won't be able to sustain us forever. Climate change is happening while animals are going extinct. Lands are becoming while the oceans are continuously being polluted. We, humans, have abused Earth and its generosity and we are paying the price now.
But it's not yet too late. Many industries have now taken initiatives to do the planet better. The market has seen the development of eco-friendly fabric for the manufacturing of green cars. Sourcing harmful chemicals are being cut in sustainable furniture as well as in fashion and other industries. The economy is slowly shifting gears to prioritize long-term sustainability before big profits at present. There is still so much to be done with so little time that can get overwhelming for Earth warriors but that does not mean we could not try to save our planet for future generations to come.
We are happy to notice the industry changes in the interior design space. Mindful design is at the forefront with innovators changing the game and developing sustainable ways to build products. The common goal? To create quality and durable furniture without destroying the planet and still being able to provide comfort, function, and style for its discerning clientele.

What is sustainable furniture anyway?
When you want something to be sustainable, you create it with the end in mind. This is how sustainable furniture is designed. The movement devices ways on how a piece of furniture can be reused and recycled to its full potential before getting discarded.
Moreover, sustainable furniture is designed with respect to the environment. Eco-friendly materials must be sustainably sourced to ensure furniture production that is not damaging to the environment starting from the supply chain.
Wood has been proven to be a sustainable material since time immemorial. Here are some environment-friendly wood types that furniture manufacturers have been using to develop sustainable and quality products.

1. Bamboo
One eco-friendly type of wood is the strong, durable, and versatile bamboo, a popular material that is typically grown in Asia. It is easy to maintain and clean. Bamboo is at a superior level to other types of wood because it releases 35% more oxygen.
Bamboo can be harvested in a relatively short span of time ranging from one to five years. It does not require new land to plant some more, because it grows a new shoot from an existing root. It can grow on almost any terrain. It is antibacterial, making it even more durable.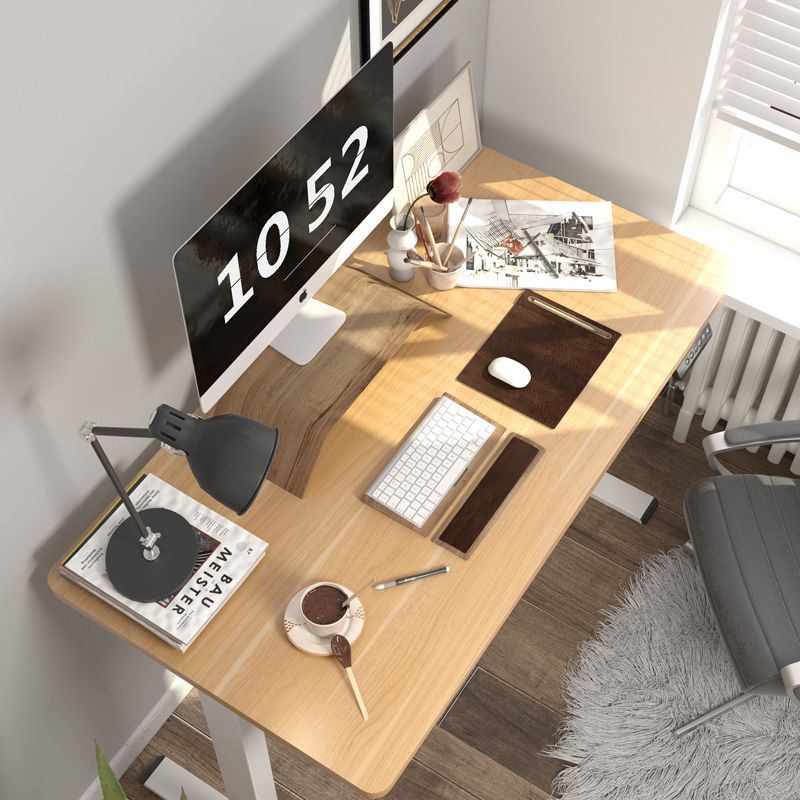 FlexiSpot has a number of pieces of furniture that use bamboo as its material for its desktop surface. These include the EN1-42"W Electric Height Adjustable Standing Desk, EF1-42''W Electric Height Adjustable Standing Desk, the Kana Bamboo Standing Desk, EQ3-48"W Electric Height Adjustable Standing Desk, and even a separate bamboo table top that's sized 48" x 24". These standing desks are electricity-powered and height-adjustable. Their prices range from CA$389.99 to CA$489.99 while the bamboo table top falls at CA$229.99. Because the desktops are made of bamboo, it's guaranteed to be durable and solid. FlexiSpot makes sure that the bamboo is anti-mold and anti-deformed. These desks also stand with sturdy steel bases that make them stable desks for working, drawing, displaying memories at home, or even dining on.
2. White Ash
White ash or Fraxinus Americana is harvested from FSC-certified forests in southeastern Canada and the central and eastern United States. You may see this wood often because it is commonly used for athletic equipment such as bats and hockey sticks. The name may not be as familiar but white ash is as strong as oak and its grain pattern is visibly pronounced. It also has other uses such as tool handles, railroad ties, canoe paddles, and boats.

3. Oak
Don't sleep on oak as this wood type is durable, strong, and naturally water-resistant. Its grain pattern is distinctive with its large, open pores that make the texture coarse. It can also absorb stains easily. Most are familiar with oak because it is commonly used for flooring and making cabinets.
4. Black Cherry
If you're looking for wood with more personality, then black cherry should be on your top list. Its color varies because the black cherry is sensitive to light---its original hue is pink or reddish but darkens immediately in direct sunlight. This type of wood is softer than ash and oak. It has a fine swirling texture and a straight grain. It grows predominantly in North America including many parts of Canada. It is often called the poor man's mahogany and is commonly used for making musical instruments and other household wooden items.

5. Pine
Pine is widely available because it grows fast, even faster than oak or mahogany. It has around 60 species in Canada's neighbor country, the U.S. It regenerates and stores carbon fast. The white pine with the tight grain is used for furniture and building materials. It is said to have a low carbon footprint because its waste is often recycled as by-products or biomass pellets.
6. Mahogany
Mahogany is a popular wood option because of its deep, reddish hue and fine texture. It's hard and durable, scratch and dent-resistant. It is also waterproof which makes it a perfect material for outdoor furniture. Aside from its relatively expensive price point, truth be told that most mahogany wood is actually not sustainably sourced or even grown. You have to actively search for Jatoba and Aridoba variants that come from forests and farms certified by the Forest Stewardship Council (FSC).

7. Maple
A close-grain hardwood, maple is less subtle than oak or ash. No dent can pass maple wood because it is extremely hard. It is non-porous and cannot absorb dark stains. Note that it yellows towards old age. Look for the FSC certification before buying anything maple. It is grown abundantly in North America especially in Canada that's famous for its maple syrup. One fun fact about maple is that it's considered "tonewood" because it can conduct sound waves and resonate well with the sound waves created.