When we talk about exercise, we almost always think of ways to avoid it. After all, it's not like water or food that our body needs to be alive. It's like an additional subject in university. We learn new things from the class; we get extra credits but in the end, it's just an addition, not a requirement.
This is why the excuses to not work out are endless. I have a tight schedule and I can't find the time to squeeze in a workout. I am not feeling my best today and would rather binge-watch my favorite Netflix show than get up and break a sweat. My workout buddy is not available today. What time is it already; I think the gym's about to close. I didn't get much sleep tonight because my crush was texting me for the first time. There's always an excuse to start for someone whose "why" to exercise does not carry a strong, motivational push.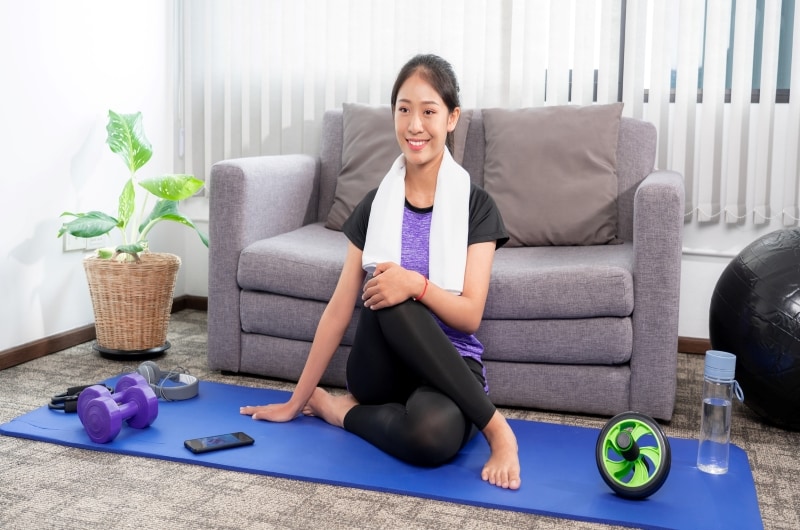 But if you think about the benefits and dream of living a better quality of life, exercise can do wonders for your overall health. There's even no need for you to dress up and go outside to shed some fats. You can start with the basics and exercise at home for even just 10 to 25 minutes every day or every other day.
One way to start sweating is through the stationary bike. Biking outdoors may lead to potential dangers such as changing temperatures, slippery terrain, or other sketchy roads. With a stationary bike, you can be in an airconditioned room, watching your favorite sitcom on your Smart TV, or playing a Spotify playlist while you pedal your way to an endorphin rush. We listed down some benefits you would gain if you exercise regularly on a stationary bike.


Benefits of Using a Stationary Bike
1. It lowers the risk of developing cardiovascular disease and type 2 diabetes.
To promote good heart health, an endurance activity such as regularly exercising on the bike is recommended. It pumps the heart and improves blood and oxygen flow in the body. Simply put, when you regularly exercise, you are less likely to have a stroke when you get older.
It also reduces the risk of developing type 2 diabetes. A cardiovascular exercise such as cycling makes your muscles use the glucose that lowers your body's overall blood sugar level. Diabetes is also connected to obesity so exercising regularly will definitely help in weight maintenance, management, or loss.
2. It strengthens the lower body.
The stationary bike will help you lose weight as well as ensure toned legs, thighs, and glutes. If you up the ante in your routine such as using handlebars and lowering or raising the saddle, you may also work out your arms and core.
3. It can boost and uplift your mood.
Cycling helps your body release endorphins or what people commonly refer to as happy hormones. This exercise is a guaranteed mood booster that will help reduce anxiety.
4. It adds years to your life.
Your immune system is in a much better state when you exercise regularly. Cycling, a cardiovascular activity as was mentioned, can strengthen the heart, lungs, and muscles so making it part of your regular routine may help increase your life expectancy.
5. It will help you burn calories.
If your goal is weight loss, stationary bikes can help you burn calories. Set the intensity level of your bike based on your fitness goal. If you want to burn more calories, your ideal resistance level should be from 4 to 8.
6. It improves your joints' range of motion.
Cycling can be a light exercise for those recovering from a joint injury or those who are at a later age and want to inject light movement into their daily activities. Remember that clearance from the doctor is still needed.
7. It helps your brain to function better.
Studies show that cycling shows great improvement in a person's cognitive functions, memory, focus, and attention. This is why if you want to wake up your brain during work hours, using a stationary bike is the way to go.


Benefits of a Desk Bike
A stationary bike is used for exercise while a desk bike's main purpose is to provide an ergonomic solution for those working at home who want to be more efficient. Below are some benefits of using a desk bike instead of a regular one.
1. It will increase productivity.
Pedaling the desk bike while working helps people stay alert, awake, and focused on their individual tasks and assignments.
2. It lessens fidgeting.
If you can't sit or stand still in one area, the desk bike will help to release your extra energy and transfer it to your feet as it pedals. As result, this will stop fidgeting or disturbing your other officemates.
3. The desk bike helps an employee to stay active.
For busy bees, a desk bike will at least help you squeeze in a workout without taking any time away from your priorities. Studies show that exercise, even for just 15 minutes a day in 12 years, already has the power to promote better cardiovascular health.
4. Burns calories
It doesn't burn calories as much as a full-blown workout but at least, it still does as compared to not having any exercise at all for the week.


FlexiSpot V9 Pro Home Office Height Adjustable Cycle Desk Bike
Offering ergonomic solutions for 20 years and counting, FlexiSpot has a desk bike available in the market that you would absolutely love: the V9 Pro Home Office Height Adjustable Cycle Desk Bike.
The V9 Pro Home Office Height Adjustable Cycle Desk Bike comes in black or white colors. It was an Honoree at the 2018 CES Innovation Awards. With a removable spacious desktop, this desk bike is its own workstation. Its pneumatic adjustment lever is easy to use to change the height of the seat whenever you please. It has an integrated digital display that shows workout time, calories burned & speed. It has rolling caster wheels so that the bike can be easily moved around the workspace. If you get tired of pedaling, you can always grab another chair and set aside the bike chair in a corner.
Many have attested to how much they've been loving the desk bike from Flexispot. All units are easy to install and just take around two minutes to finish assembling upon arrival of the delivery. The height is adjustable and the resistance levels challenge a person's exercise level.
Final Thoughts
With today's tools and equipment, it's impossible to come up with an excuse not to work out because you are too lazy to go out. You can break some sweat even while at home and have fun doing it! You'll even be proud of how hard you pushed through your limits, happy for the rush of endorphins, and generally healthier than when you started. For now, all you have to do is start.